Communication and Environmental Education for Promoting the Protection of the Saimaa Ringed Seal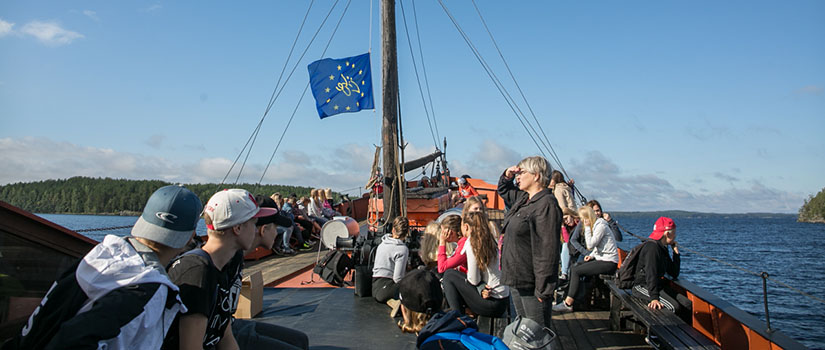 The protection of the Saimaa ringed seal largely depends on the actions of individuals. The LIFE Saimaa Seal aimed at increasing people's knowledge of the Saimaa ringed seal.
Information wa provided to the local residents, the summer residents, and others moving in the Lake Saimaa region via various campaigns and events. In particular, we informed people of the ways in which they can take the Saimaa ringed seal into account in their actions, such as when fishing or boating on Lake Saimaa in the seal's breeding period. We were also active in providing information through the traditional and social media. We included pupils in our activities with the help of our Saimaa ringed seal ambassadors, camps, and workshops in the Lake Saimaa region. In addition, a seal-themed story book for young children was produced.
The communication and environmental education activities of the Saimaa Seal LIFE project were implemented both by the authorities and the non-governmental organisations.
Seal ambassadors and cruises in the National Park
Both Metsähallitus' Parks and Wildlife Finland unit and the WWF provided environmental education as part of the Saimaa Seal LIFE project. The events and campaigns of the project directed at schoolchildren have reached over 10,000 youngsters in Saimaa area. Seal ambassadors of the Finnish Association for Nature Conservation have visited schools, summer events and fairs. Children and young people have familiarised themselves with the seal's home waters and living habits in workshops, on camps and on cruises to Linnansaari national park. A WWF story book titled The seal pup and the snowman produced during the project will introduce even the youngest in the family to the life of the seal. For more information about events and materials, see the Project materials page.
More Information
Seal Ambassadors and children camps
The Finnish Association of Nature Conservation: Coordinator Kaarina Tiainen, kaarina.tiainen(at)sll.fi
Environmental education and National Park Cruises for schoolchildren
Metsähallitus: Planner Tiina Linsen, tiina.linsen(a)metsa.fi
The Seal Pup and the Snowman -book and the Teacher's material
WWF Finland: Head of Programme Petteri Tolvanen, petteri.tolvanen(at)wwf.fi
Brochure of Saimaa Ringed Seal (julkaisut.metsa.fi).