Hiking
Metsähallitus offers diverse settings for outdoor activities in state lands across Finland. Whether you're interested in hiking, cycling, canoeing or cross-country skiing, you are guaranteed to find suitable grounds and water areas in national parks, hiking areas or managed forests.
Everyman's Right
'Everyman's right' is a traditional Finnish legal concept that gives people the right to access just about any of the country's land and waterways. Unlike in many other countries, everyman's rights in Finland are quite broad, and they also apply to foreign citizens.
According to everyman's right, the landowner's permission is not required if movement on the land is only in passing. Land and water access is free of charge, but roamers are obliged not to cause any damage or disturbance.
Everyman's right applies to 85 percent of Finland's land and water areas. Roaming is permitted in national parks, state hiking areas and other special areas, although access and camping may be partly restricted for nature conservation reasons.
National parks
Finland's national parks are extensive, varied nature conservation areas, but they are also popular nature sites open to the public. The primary purpose of national parks is to safeguard the natural biodiversity of the areas. There are 41 national parks. Metsähallitus manages all of Finland's national parks.
Read more: Finland's national parks (www.nationalparks.fi)
Nature reserves and other protected areas
Strict nature reserves are mainly closed to the public and access usually requires written authorisation. In some nature reserves, for example in Kevo, Lapland, there are marked trails open to the public.
The services for outdoor enthusiasts in other state nature conservation areas vary. Good excursion areas are, for example, the culturally valuable Aulanko; as well as the rugged Korouoma, for hikers looking for a real challenge.
More about Finland's protected areas suitable for hiking (www.nationalparks.fi)
Hiking areas
National hiking areas are intended for various hiking and other recreational use. Five national hiking areas have been established under Finland's Outdoor Recreation Act: Evo, Ruunaa, Oulujärvi, Kylmäluoma and Iso-Syöte. In addition, Metsähallitus has established, by its own decision, the Arctic Circle Hiking Area in the rural district of Rovaniemi and the Inari Hiking Area near the village of Inari.
The hiking areas are suitable for many kinds of outdoor activities and have been equipped with diverse service facilities catering to the needs of outdoor enthusiasts. In all hiking areas there are marked routes, camping sites, lean-tos, nature trails and often also Visitor Centres. The needs of people with disabilities have also been taken into consideration in the establishment of hiking areas.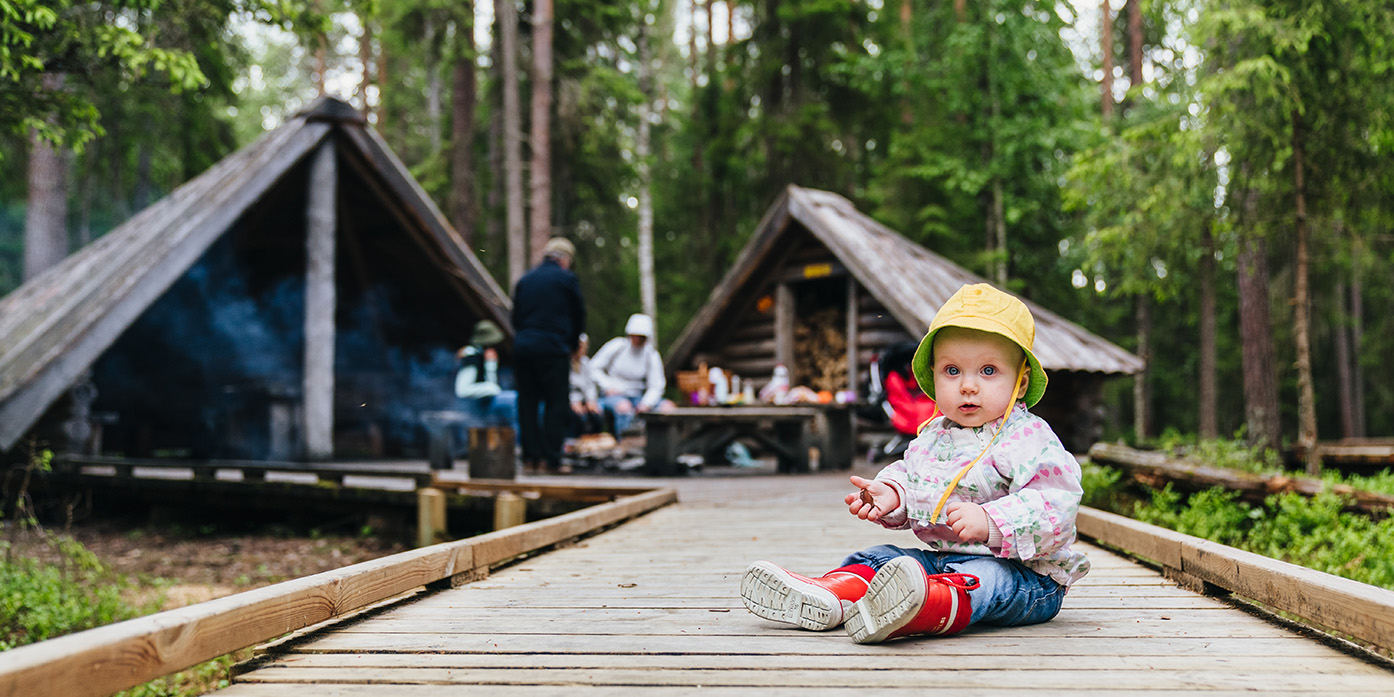 Hiking areas on state-owned lands (www.nationalparks.fi)
Multiple-use forests
If you are looking for hiking areas that do not necessarily have marked trails or facilities, there are also expansive managed forests all around Finland. In managed forests you can walk on trails of your own choosing and rest or linger at the shore of any pond or lake you come across. These areas offer nature at its best.
Managed forests are also good berry picking and excursion sites, where you can also fish and hunt.