Regeneration
The goal of forest regeneration and young stand management is a biodiverse, viable and productive forest. Every year, we plant around 14,000 hectares with trees. This means more than 20 million seedlings planted.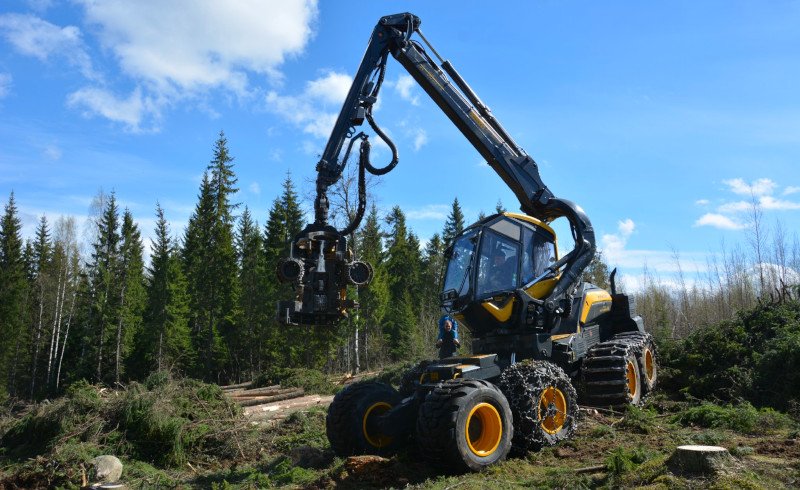 In multiple-use forests, silviculture is generally based on regeneration fellings followed by a regeneration phase, tending of seedling stands and thinnings.
In forest regeneration, it is important to select the correct regeneration and site preparation techniques as well as tree species that are suited to the site. These decisions will secure the establishment and good early development of the seedlings in the regeneration area.
Forests are usually regenerated either naturally, using seed-tree felling, or by clear-felling followed by sowing or planting. Existing viable seedlings and seedling groups are utilised when establishing a new stand.
Our regeneration fellings cover about 24,000 hectares a year. Approx. 14,000 hectares are regenerated by planting – for which we need more than 20 million tree saplings.
When establishing a new stand, any saplings and sapling groups suitable for cultivation already found on the site are left to grow. Retention trees and tree groups preserved on regeneration sites also provide cover. Decaying wood left standing and artificial snags created by the harvester are also part of the landscape on a regeneration site.
Site preparation
Site preparation is usually done in order to ensure regeneration.
Water protection
In forestry, water protection is taken into consideration in all operations.
To prepare the site, techniques that are as light as possible but sufficient to facilitate regeneration are used. Buffer zones are left along water bodies to prevent any leaching of nutrients from regeneration areas and to conserve biodiversity along water bodies.
Regeneration areas are designed to follow natural boundaries as much as possible. This way they will blend in with the terrain and forest landscape around them.
No unnecessary tillage
It is important to identify nutrient-poor sites where seedlings can establish themselves without site preparation.
Tillage techniques that are as light as possible are selected to avoid unnecessary obstruction for those out and about in multiple-use forests and collectors of natural produce. Hiking trails are systematically excluded from the tillage areas. To protect forest biodiversity, we also avoid tillage in low-lying wet areas, game thickets, retention tree groups and buffer zones.
This technique is also not used in lichen forests or reindeer grazing areas where tillage is not essential considering the time it takes for the forest to regenerate.
We also avoid tillage in areas with naturally occurring sapling stands which are viable and suitable for the site.