Sustainable forestry – work for the future
The objective of the work carried out by Metsähallitus is to take care of natural values and our shared wealth responsibly across generations. The state-owned land and water areas are valuable assets of our society which we use and manage, ensuring that they will not lose their value. Rather than just preserving, our work involves growing, increasing and diversifying.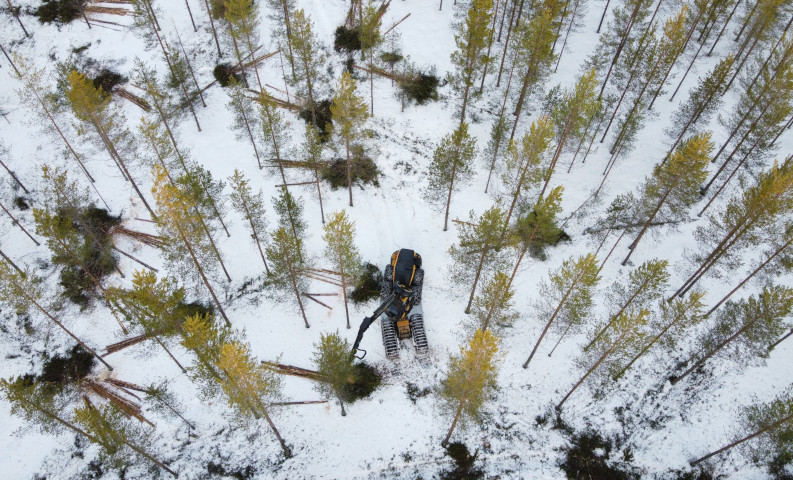 Metsähallitus Forestry
More than one half of state-owned land areas in Finland are in forestry use.
The state-owned forests are PEFC certified and managed sustainably by Metsähallitus Forestry Ltd, a subsidiary of Metsähallitus.
In our forestry operations in multiple-use forests, we simultaneously produce timber, see to the sufficiency of forest resources, safeguard biodiversity, promote the preconditions for recreational use, and address climate change mitigation and adaptation. These aspects are part of natural resource planning, which we carry out together with our stakeholders and partners. Sustainable forestry requires versatile competence and expert partners.
Wood is renewable and can be used to replace fossil raw materials.
Being able to verify the origin of timber and ensuring that the procurement chains are responsible are an elemental part of our corporate social responsibility. State forests are PEFC certified, and Metsähallitus has a monitoring system for the origin of timber. Metsähallitus Supplier Code of Conduct ensures our partners' and subcontractors' commitment to operating responsibly and ethically. We report openly on our activities and also encourage our partners to operate transparently.
Sustainable forestry at Metsähallitus
Economic sustainability. Metsähallitus scales its forestry operations to sustainable use of the forest resources over generations. This means that we must hand over to future generations forests which are as plentiful, healthy and biodiverse as they are today – or preferably even more so.
Metsähallitus' felling calculations take into account new forest resource data, updated landscape ecological plans, restrictions imposed by other forms of land use and common policies agreed in the natural resource planning process.
Ecological sustainability. All state-owned multiple-use forests are PEFC certified. Forest certification is based on practices agreed upon in extensive national and international cooperation and monitoring carried out by an independent third party.
In addition to certification, Metsähallitus' forestry operations are underpinned by natural resource planning, landscape ecological planning, the Forest Act and forest management recommendations. In climate-wise forestry, we protect and enhance carbon sinks and carbon sequestration by means of good forest management practices and restoration.
In addition to producing timber commercially, we safeguard ecological values in the forests through high-quality environmental management. Environmental management is a chain that leads from evidence-based guidelines and training to careful planning and, finally, responsible implementation. We regularly monitor the environmental impacts of forestry.
Growth and yield of multiple-use forests in figures
We observe the agreement on the development of multiple-use forests made with our stakeholders in the natural resource plans, according to which the planned cutting volumes will go up from the current 6.7 million m3 to 7.6 million m3 by 2030.
The annual growth of multi-purpose forests today is 13 million m3, while the harvesting volumes in recent years have been around 6 million m3.
More than one half of all forests are cultivated multiple-use forests undergoing the most vigorous stage of growth, and 50-year-old forests can thus be seen as a peak in the age class distribution. We will work to ensure that the age class distribution levels out significantly over the next 30 years; this means that the forests will be sturdier and the volumes of older age classes will increase.
Social sustainability. Both current and future generations must be able to enjoy forests and the recreational and economic benefits they bring. The forests are used for not only timber harvesting but also many other activities: hunting, hiking, picking berries and pursuing livelihoods, including tourism services and reindeer husbandry. This is why we talk about multiple-use forests.
Reconciling expectations, creating jobs, occupational safety, responsible service procurements, maintaining the forest road network, and special fellings planned carefully to protect tourism destinations and landscapes are some of the elements of social responsibility in Metsähallitus' forestry operations.
Cultural sustainability. Forest and culture go hand in hand in Finland. In forestry, cultural sustainability means understanding the interaction between nature and humans as well as values and attitudes related to nature.
The forests are also steeped in history. Cultural heritage sites in multiple-use forests have been inventoried thoroughly, making it possible to preserve them in forestry operations.