Responsibility in Metsähallitus
Responsibility is a strategic value for Metsähallitus. It has been integrated into our Fostering our Future strategy, where it guides our strategic choices and helps us achieve our goals. Responsibility also plays a part in everything we do – in the way we talk and in the way we encounter our customers, partners and stakeholders. Good governance, compliance and our practices provide an ethical and responsible foundation for our work.
Sustainable Development Goals of the United Nations
We are committed to promoting the Sustainable Development Goals of the United Nations (Agenda 2030). We have identified the most essential sustainable development goals for our own activities and our stakeholders.
The sustainable development goals that we can particularly affect through our activities are 5 Gender equality, 8 Decent work and economic growth, 11 Sustainable cities and communities, 12 Responsible consumption and production, 13 Climate action, 14 Life below water, 15 Life on land, 16 Peace, justice and strong institutions, and 17 Partnerships for the goals.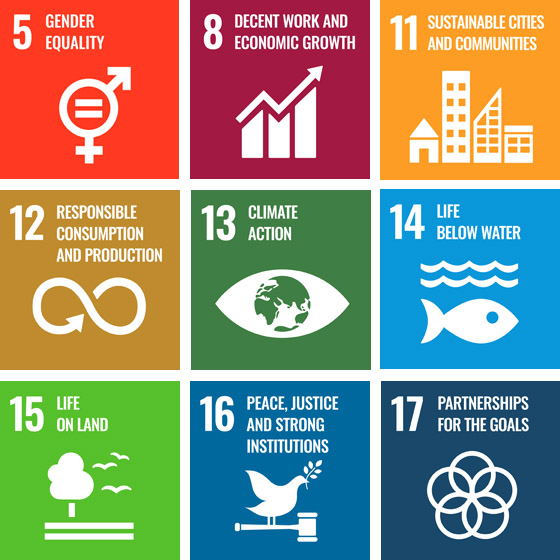 Responsibility Program
Our responsibility work is based on understanding the impact of our activities and the needs of our stakeholders. The Responsibility Programme for the strategy period, Fostering our Future, both directly supports the achievement of our strategic objectives and anticipates and stimulates future efforts to develop responsibility. The programme includes four focus areas: leadership, environment, people and society.