We maintain a large network of forest roads
A well-maintained road network is a fundamental precondition for reliable, year-round timber deliveries and commercial forestry in general. The areas managed by Metsähallitus contain more than 36,000 kilometres of forest roads and around 1,000 bridges.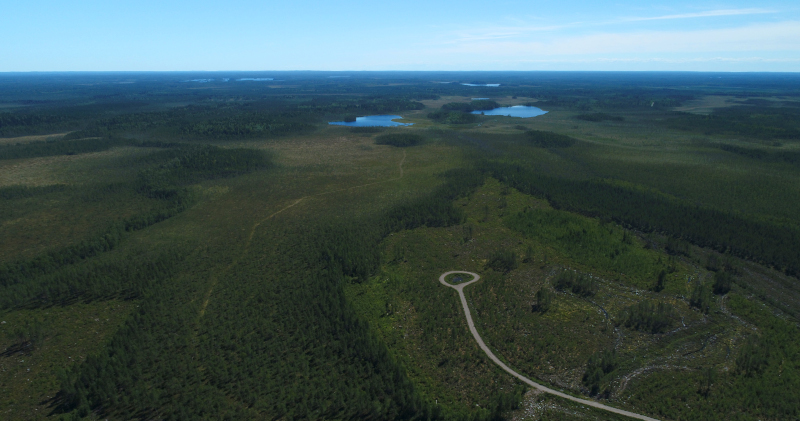 Every year, we invest approx. EUR 17 million in maintaining and extending the forest road network. We are also a member in numerous private road cooperatives.
The objective is to keep the most frequently used roads in good condition, reducing the need for repeated overhauls. Improving forest roads, which enables them to withstand damage caused by rainy autumns and mild winters, also promotes climate change adaptation. Decisions to build new roads are considered carefully; in recent years, around 100 kilometres of new roads have been built annually.
Forestry and Climate
Climate change mitigation and adaptation in forestry are both an important part of Metsähallitus' Climate programme, which guides our actions in forestry practices.
Technical solutions include increasing timber lorries' capacity to reduce the use of fossil fuels.
The road network is also improved to enable it to carry heavier timber lorries. Operating with larger vehicles decreases the need for fuel, which in turn reduces emissions from timber haulage. Metsähallitus has been involved in testing the use of large lorries. Whenever possible, rail transport is used.
The forest road network has proven useful for rapid response to forest fires. While there was a high number of forest fires in the exceptionally dry summer of 2018, the burnt areas remained small.
Forest roads can be used by all
The road network built for forestry purposes has developed into an important recreational infrastructure in state-owned areas.
The use of forest roads in multiple-use forests has been monitored when preparing natural resource plans. The results indicate that the largest group of people seen on Metsähallitus' roads is recreational users, including hunters and people picking berries and mushrooms: studies show that 85% of forest road use is not related to forestry operations.
While giving reliable estimates of the number of people visiting multiple-use forests is difficult, studies indicate that this figure is about 500,000 in the multiple-use forests of Kainuu, 1 million in Southern Finland and about 900,000 both in Lapland and Central and North Ostrobothnia annually.
Winter roads are made on frozen land and snow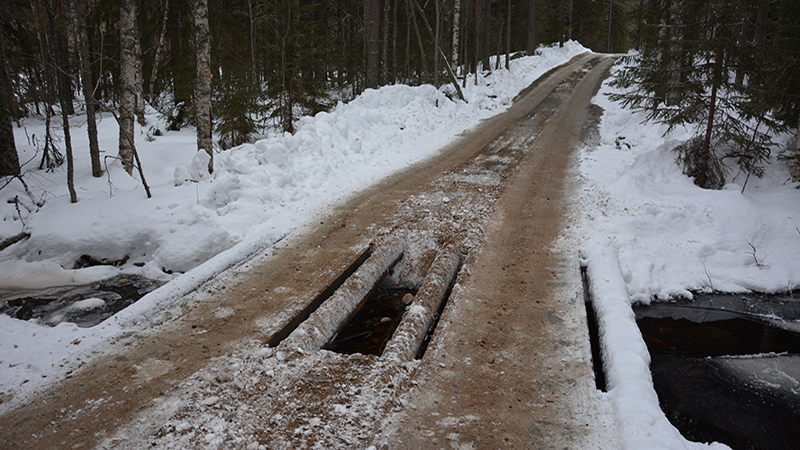 The long and cold Finnish winters make it possible to build temporary roads on top of snow and ice.
The road foundation is made on level heath forest or across a mire by compacting snow, levelling the road foundation with an excavator or a bulldozer, or by spreading soil from the roadside drains onto the road. Vehicles can usually only start using the road once there is enough snow to level out any uneven areas. When the road has become frozen to a sufficient depth, it will carry harvesters and timber lorries.
Every year, Metsähallitus builds 500 to 700 kilometres of winter roads, which provide access to roadless wilderness areas. Winter roads are temporary structures, and after the harvesting season in winter, the traces left in nature will be minor and disappear gradually.
Winter roads are extremely important for timber harvesting, especially in Northern Finland: almost one half (45%) of timber is harvested in Lapland using winter roads. This reduces the need to build permanent forest roads by an equivalent amount, and large forests preserve their wilderness character despite the harvesting. The practice also benefits reindeer husbandry.
In sensitive areas timber is harvested while the ground is frozen, thus avoiding ruts in the soil and damage to tree roots and putting less pressure on vegetation. This is highly significant for such plants as the tree lichens in forests used for reindeer pastures.
Winter roads across water bodies
In Northern and Eastern Finland, the ice on lakes becomes so strong in winter that roads can be built across them. Several public ice roads are opened in Finland every year, for example across Lake Pielinen in North Karelia and the sea between Oulu and Hailuoto.
Metsähallitus annually builds 10 to 20 km of ice roads to logging sites on islands and across water bodies.
Ice roads are built by compacting the snow layer and pumping water onto the ice, making the ice in the road area even thicker. The thickness of the ice is measured and its structure examined before the ice road can be opened for traffic. A thickness of 120 cm must be reached before the ice will carry a fully loaded timber lorry.
The ice roads eliminate the need to build bridges. When the number of bridges is kept to a minimum, summertime vehicle traffic in forest areas is reduced.