Nature and Health
Nature is a diverse source of health and well-being. State owned forests and waters offer great experiences for all ages throughout the country. Metsähallitus together with its partners promote the wellness effects of outdoor activities by offering hikers services such as trails, campfire sites, signposts, maps and information on Finland's most beautiful nature destinations.
It has been scientifically proven that nature improves our health and well-being in at least three ways:
Physical activity increases outdoors: Nature makes you move. Without even noticing it, we tend to move more briskly outdoors than indoors even though the exercise feels lighter.
Nature revives and helps recover from stress: It improves our concentration, and can also reduce our pulse rate and blood pressure.
Outdoor activities promote our social well-being and sense of community: We look at others in a more positive way, and our mood is quickly improved.
Even a short time spent outdoors helps. Five minutes spent outdoors improves your mood, and in 15–20 minutes vitality increases and blood pressure drops. It has also been estimated, that spending at least five hours a month in urban green spaces, or visiting nature sites outside the city two or three times a month, significantly improves your mental well-being.
Outdoor Activities Improve Public Health Equally
Outdoor activities offer a great solution for public health problems, such as physical inactivity, sedentary lifestyles and increase in obesity rates, as well as the related health risks such as cardiovascular disease, mental health problems and type 2 diabetes.
National parks and other nature destinations, as well as commercial forests, are equal and inexpensive exercise environments for everyone. There are thousands of kilometres of hiking trails and some of them are also wheelchair and pram accessible. Other outdoor activities include, for example, climbing, biking, canoeing, skiing, fishing and hunting. Metsähallitus web services and the staff at nature centers help you plan your excursion.
Health benefits from National Parks
According to Metsähallitus reports, vitality and happiness are improved on trips to Finnish national parks and other quality nature destinations. Especially age groups going through their busy years, women and children benefit from hikes in national parks.
Health Benefits of Fishing and Hunting
Hunters as well as fishers feel that their physical and mental well-being is enhanced by spending time outdoors. Their social well-being is also improved.
Healthy Parks, Healthy People Finland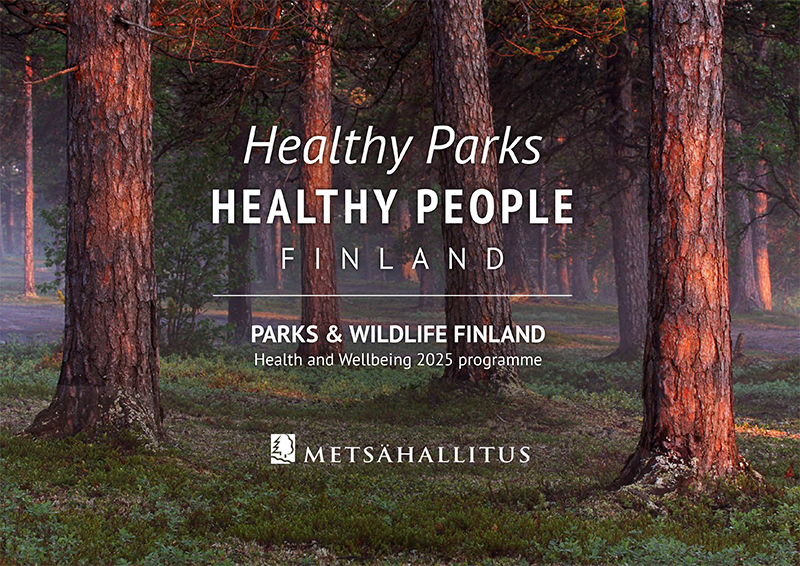 Metsähallitus, Parks & Wildlife Finland strives to inspire people to move and stay in the natural environment more often and for longer periods.
In cooperation with partners, Parks & Wildlife Finland encourages everyone to enjoy the great outdoors – whether in the nearby natural environment or a national park. We are responding to future challenges through our health promotion programme "Healthy Parks, Healthy People Finland".