Recreation Areas in Finland and Estonia
Metsähallitus and the Riigimetsa Majandamise Keskus, which is responsible for the management and use of Estonian state forests, maintain diverse and beautiful hiking areas in Finland and Estonia. On this page, we introduce eight different hiking areas that might interest you in Finland and Estonia.
The hiking areas in both countries are ideal for hiking, cycling or paddling – whether you prefer a day trip or a longer excursion. The hiking destinations offer campfire sites, hiking trails, campsites and rental huts.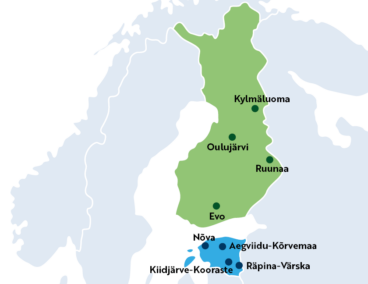 The destinations in Estonia are located around the country. The beaches and forests of Nõva near Tallinn invite you to enjoy summer pursuits. Aegviidu-Kõrvemaa offers versatile terrain for year-round hiking. Located near Tartu, Kiidjarve-Kooraste boasts magnificent forest and river landscapes along Ahja River. The hiking area of Räpina-Värska with its pine forests is ideal for hikers who enjoy the peace and quiet of nature.
The destinations in Finland are Evo, the jewel in the crown of Southern Finland wilderness areas; the sparkling rapids of the border zone in Ruunaa; Oulujärvi, an excellent hiking and holiday destination for the whole family; and Kylmäluoma, an oasis for wilderness holidays. Each area has its unique characteristics and recreational possibilities.
Read more about the sites that interest you and plan your next nature excursion!
---
Destinations in Estonia
Nõva – singing sands, berry and mushroom-rich pine forests – land that rises from the sea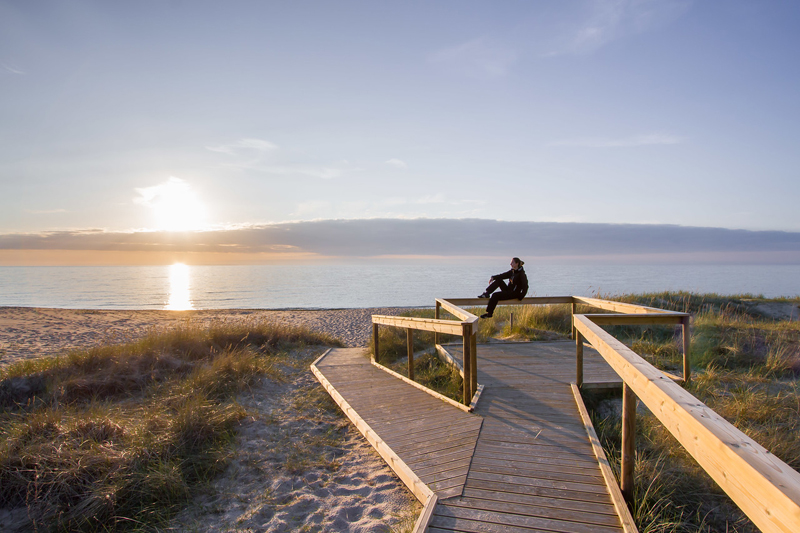 Nõva recreation area is located an 1,5 hour drive from Tallinn. It offers interesting experiences for birdwatchers, beach holiday enjoyers, geology and dendrology enthusiasts.
Visitors have the opportunity to camp, sit by the campfire, enjoy the sunsets and the night sky without city lights.
There are hiking trails in the area that introduce local natural values, which run along sunny, berry- and mushroom-rich coastal pine groves, dunes and seashores with singing sand. At Nõva Visitor Centre starts the 820-km long Peraküla-Aegviidu-Ähijärve hiking route through Estonia.
---
Aegviidu-Kõrvemaa – come by car, train, bike or on foot and choose a direction and start your journey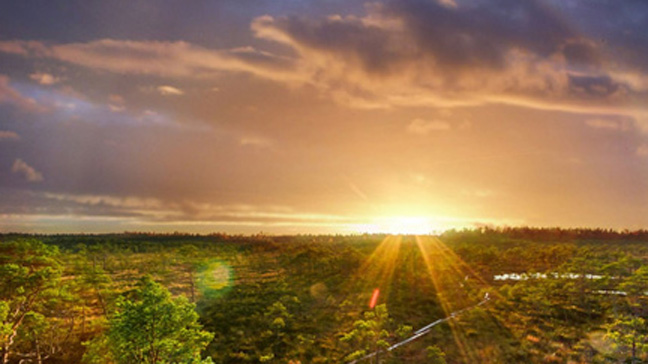 Aegviidu-Kõrvemaa recreation area is located almost an hour's drive from Tallinn. In the heart of the area is the Estonian hiking capital Aegviidu, where is also the Aegviidu Visitor Centre. The crossing point of three long hiking route branches passing through Estonia is located in the recreation area. It is possible to go hiking, camping near beautiful waters, ride a bike or just walk.
The landscape varies with the abundance of bogs, numerous esker chains and kames with the characteristic lakes between them. The lakes formed by the ice age are among the cleanest lakes in Estonia.
---
Kiidjärve-Kooraste – famous Taevaskoja (Heaven's Hall) and beautiful forest lakes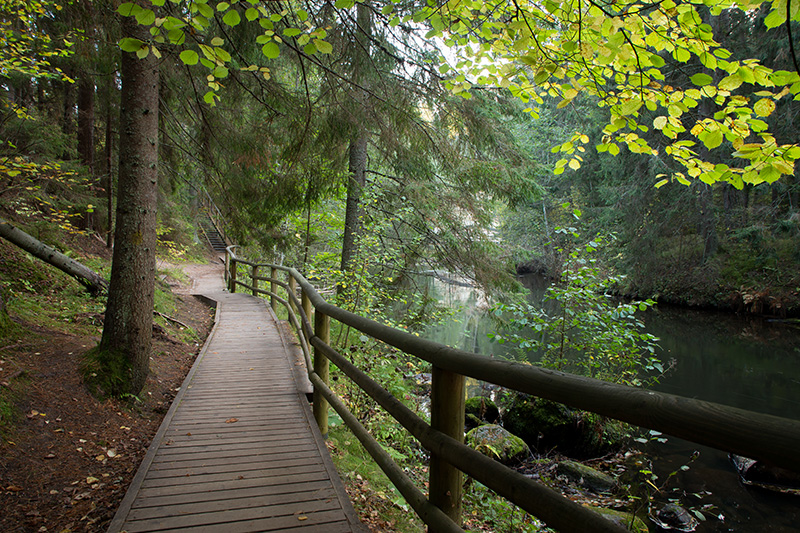 Kiidjärve-Kooraste recreation area is less than an hour drive or train ride from Tartu, the largest city in southern Estonia. In the heart of the area, on the banks of the Ahja river, is the Kiidjärve Visitor Centre. There are campfire sites and camping areas, various hiking and study trails and the 820-kilometer-long RMK hiking route passes through the recreation area.
The area is characterized by active holiday opportunities and wonderful nature – the glittering river Ahja with powerful sandstone outcrops by it. There are mushroom and berry-rich pine forests, numerous lakes and primeval valleys.
---
Räpina-Värska – some of Estonia's most beautiful pine forests and bogs among other natural pearls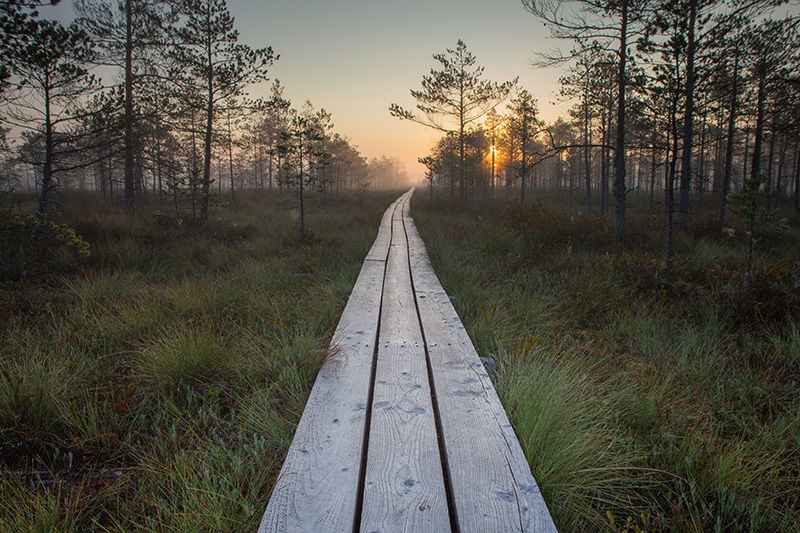 Räpina-Värska recreation area is located in the southeast corner of Estonia, near the Russian border, about an 1,5 hour drive from Tartu. It is characterized by small campfire sites and camping areas, many of which are located in peaceful forests and by rivers or lakes. The 820-kilometer-long RMK hiking route passes through the area.
Located in the area: Estonia longest river Võhandu, the world's tallest Scots pine in Ootsipalu, a hiking trail in the Meenikunno bog, Ilumetsa meteorite craters, Lõunalaagri hiking trail with traces of military heritage culture. The area is characterized by Setomaa with its sand caves and unique cultural heritage.
---
Destinations in Finland
Evo – the jewel in the crown of Southern Finland wilderness areas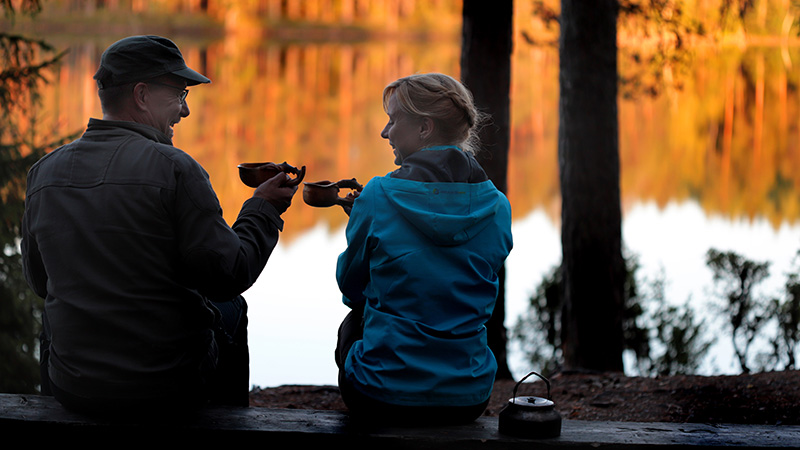 Evo recreation area is only a short distance away from the population centres of Southern Finland. Evo offers walks on easy nature trails as well as the Ilvesvaellus trail for longer hikes of several days. In total, there are approximately 70 kilometres of marked trails and nature trails. Diverse forests, dozens of forest ponds and eskers shaped by the Ice Age combine into an interesting and varied landscape for many pursuits.
Evo is an ideal fishing and hiking destination for the whole family, with excellent fishing waters for both beginners and experienced enthusiasts. In Lakes Niemisjärvi, a casting platform is provided for disabled fishers.
---
Ruunaa – the sparkling rapids of the border zone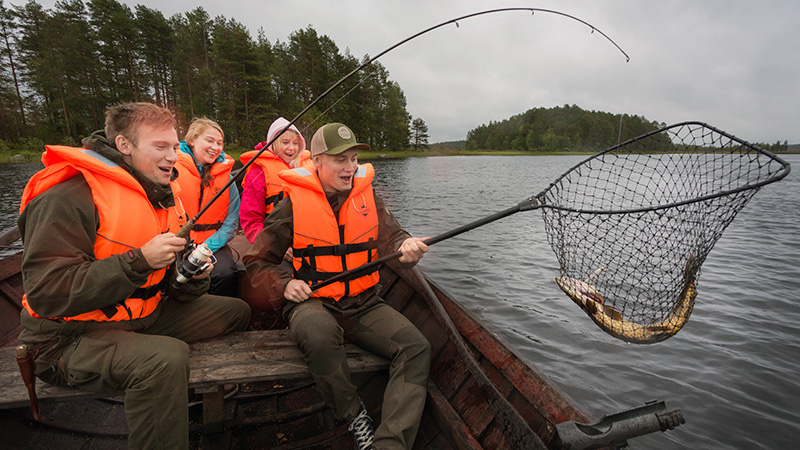 Ruunaa is the only place in Europe where you can shoot rapids in a wooden boat. It is also an important freestyle kayaking centre and a well-known fishing spot. Or why not rent a mountain bike from a local entrepreneur and explore the shores of the water courses? Ruunaa also offers an accessible trail.
In winter, Ruunaa is a great destination for snowshoeing, skiing, snowmobiling or winter fishing. All services you might want for a successful meeting or a special occasion are also available in Ruunaa.
---
Oulujärvi – a great destination for hiking and family holidays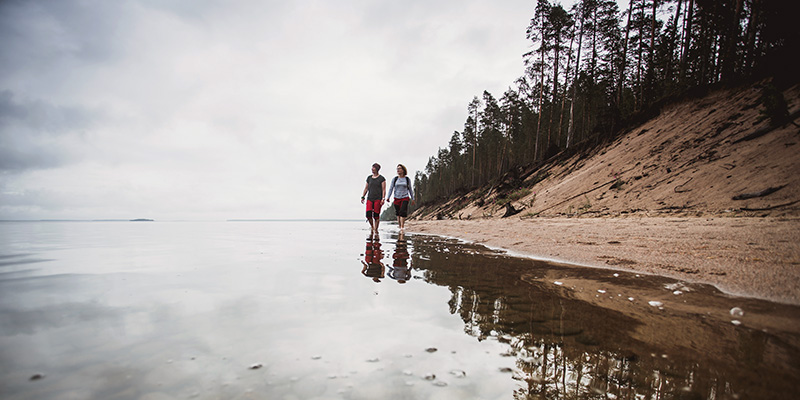 Oulujärvi offers enjoyable activities in a relaxed atmosphere for the whole family. Boaters and paddlers will be wowed by the magnificent islands and sandy beaches of this hiking area belonging to the UNESCO Geopark network. The signposted trails are an easy and safe way of learning to find your way around and explore nature. Lake Oulujärvi or the crystal clear esker lakes of Manamansalo rod licence area are irresistible for fishing enthusiasts.
The five-star Manamansalo camping site serves visitors right beside the hiking area with its rental cottages and sites for campervans, caravans and tents.
---
Kylmäluoma – an oasis for wilderness holidays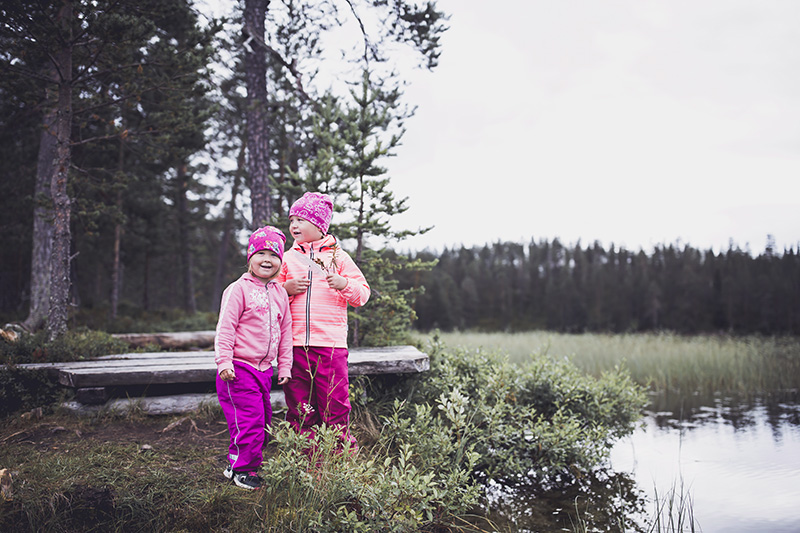 Kylmäluoma recreation area is interspersed by esker ridges and covered by pine-dominated forests and aapa mires. The silence broken only by the calls of Red and Black-throated divers together with the peaceful location create a genuine wilderness atmosphere.
The area is popular with caravan owners, fishers and hikers, and the clear lakes of Kylmäluoma make a great holiday destination for the whole family. Fishers are spoiled for choice with the around 90 lakes and ponds of Kylmäluoma. The lakes glimpsed between the eskers offer great fishing spots.
---