Great potential in offshore wind power
Offshore wind power is an interesting potential form of renewable energy production in Finland, and we want to harness it to build societally influential business. Metsähallitus has submitted their first planning initiative for an offshore wind farm.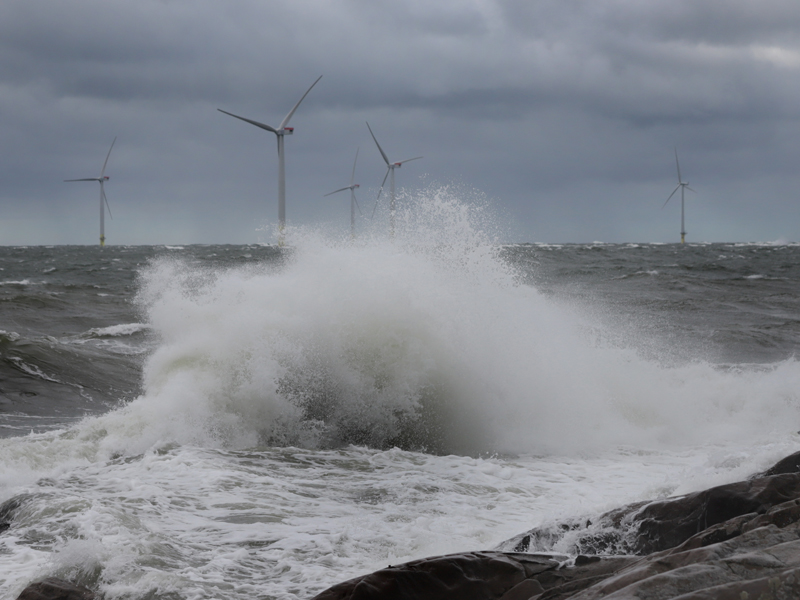 At the end of 2019, there were 110 offshore wind farms in Europe in 12 different countries and more than 5,000 power plants connected to the grid. Offshore wind plays a key role in the EU's offshore renewable energy strategy, published in November 2020. The EU aims to increase offshore wind power from the current 12 gigawatts to 300 gigawatts by 2050. The strategy also focuses on the Baltic Sea.
There is only one offshore wind farm in Finland at the moment. Several potential areas for offshore wind power production have been allocated to Finnish sea areas in regional plans, and Metsähallitus, as the holder of public water areas, has concluded a reservation agreement with energy companies for almost all the areas.
In November 2020, Metsähallitus submitted their first planning initiative for an offshore wind farm to the municipality of Korsnäs. The initiative was accepted and project development is now underway.
The regional economic impacts of the construction and maintenance of the offshore wind farm are considerable. In addition, energy companies pay property tax to municipalities for offshore wind power plants in the same way as for land-based wind power. However, due to more expensive foundations, an offshore power plant has more structures that are subject to property tax than land-based wind power. According to the Government Programme, property tax on offshore wind power will be reduced as it has been considered one of the reasons that the development of the reserved areas has not started yet. Despite this, the accrual of property tax on offshore wind production will have a very significant positive impact on municipal finances.
We believe that the development of offshore wind power will bring new kinds of expertise to Finland and, on the other hand, create new opportunities for developing existing core competences. The conditions in Finnish sea areas are different from those in seas such as the North Sea as cold and ice require different technical solutions.
Metsähallitus' operating model for offshore wind power
Metsähallitus operates at sea both as a project developer for wind power and as an issuer and lessor of reservation and access rights contracts. We do not build wind turbines or have them built, we do not own the wind parks or participate in energy production. In all cases, ownership of the water area remains with the state.
Korsnäs is the first offshore wind power project in which we act as the project developer. As this is such a large project, we are looking for a partner for it. Metsähallitus will organise a tender competition to find a partner. The partner may be from Finland or foreign, but they must meet the terms of Metsähallitus' responsible business operations.
Reconciling different objectives is in our core competence. We have an enormous stakeholder network and expertise to engage and listen to this network. The development of the offshore wind farm requires a participatory approach and good communication with both decision-makers and local people, and we have expertise in this.
Metsähallitus is an economically stable state-owned enterprise and we have a vast experience in responsible project development of land-based wind power. The Government Programme details Finland's ambitious goal to be a fossil free/carbon-neutral welfare society by 2035. We are implementing this goal through our climate programme. Our aim is to multiply the production of renewable energy in state-owned land and water areas by 2030.
After the development of the project, Metsähallitus will act as a lessor in wind farms, and the rental payments received from wind farms will form a part of Metsähallitus' profits. At the moment, this share is around 10%, but it is growing all the time as new power plants are built.
Read more