Forestry procurement process
We always use methods compatible with the procurement legislation when procuring contracting services. We mostly use an open procedure.
Other types of processes are also used depending on the nature of the procurement (restricted, competitive dialogue and negotiated procedures).
In an open procurement process, the contract notice and invitation to tender are published on different channels depending on the value of the contract. Notices of national procurements are published on HILMA, the Finnish public procurement website, and Metsähallitus' Supplier Portal, whereas contracts exceeding the EU threshold value are additionally published on TED web service (Tenders Electronic Daily). Tenders received by the deadline are examined carefully: among other things, we check that the tenderers and tenders fulfil the conditions set out in the invitation to tender.
The interested parties are notified of the contract award decision. We also check that the selected supplier meets the requirements of the Act on Public Procurement, the Act on the Contractor's Obligations and Liabilities when Work is Contracted Out and forest certification. If necessary, we request an entrepreneur to provide additional information related to the requirements.
Once the contract has been prepared and the appeal period has expired, the contracts are signed electronically. A contract award notice is published on HILMA and, if necessary, on TED.
Annual calendar of Forestry Ltd's procurements
October – December
Regional road maintenance contracting; planting, stand management and clearing services; seed procurements; seedling procurements; bridge construction and repairs; tillage and drain network maintenance; other road maintenance; gravel laying, rock crushing; fertilisation services; culverts; tarpaulins for fuel wood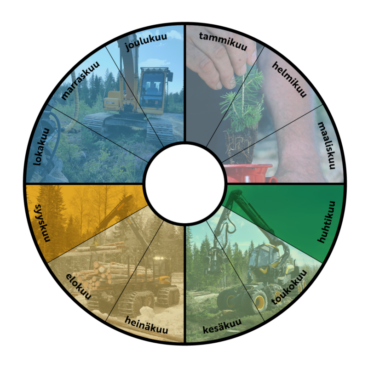 January – March
Planting, stand management and clearing services; fungicides, laser scanning, aerial photography etc; waterborne transport services; fertilisers; fertilisation as a turnkey service
April and September
Harvesting services; timber transportation; chipping + transport