Activities in the sea area
More than one-fifth of the areas managed by Metsähallitus are sea water areas. We manage more than half of the regional sea of Finland. Our sea areas are mainly public water areas in the open sea.  Our operations in marine and other water areas are steered by sustainability and responsibility, and we are committed to achieving the good status of waters.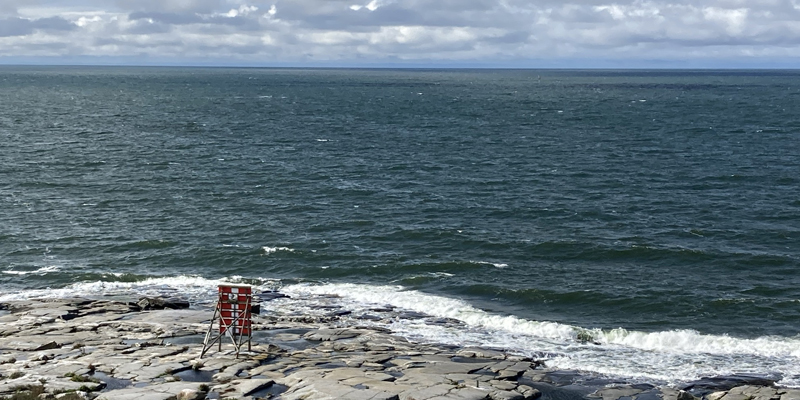 Proper planning is the basis for everything
A key part of our activities in the sea area is the protection of biodiversity and the objective of achieving a good ecological status in the sea area. Our aim is to ensure that the sea area we manage not only maintains the natural marine food web, but also produces food, energy, work, recreation and well-being for humans.
The targeting of protection, measures for maintaining biodiversity and increasing the economic use of marine areas require proper planning:
We preserve the biodiversity of our nature through active measures, such as the restoration of gravel spawning beds or eelgrass meadows.
By building a service infrastructure for tourism and instituting possible access restrictions, we can steer visitors away from the most vulnerable natural areas.
The maximum number of fishing permits granted by us is based on the number of fish that can be caught sustainably without reducing populations.
We make the fossil-free production of energy possible by promoting the use of offshore wind farms.
Promoting fish farming increases the production of domestic fish.
Where the climate is concerned, marine aggregates can be a sustainable alternative to terrestrial aggregates, thus reducing transport distances and carbon dioxide emissions.
Use of the sea area managed by Metsähallitus is co-ordinated in natural resource planning, which is done together with stakeholders. Among others, the wishes of stakeholders concerning the use of water areas are gathered and opportunities for cooperation in the marine area are explored.
Sustainable business opportunities
We offer our customers at sea a variety of sustainable and responsible business opportunities.
Metsähallitus operates at sea both as a project developer for wind power and as an issuer and lessor of reservation and access rights contracts.We require that energy companies operating in our water areas employ responsible and sustainable business practices. In all cases, ownership of the water area remains with the state.
The same things apply to tourism and tourism enterprises on land also apply to those in a marine environment. We want tourism to be responsible and sustainable. We manage the most important element of Finland's brand, nature, and are responsible for preserving it for future generations to enjoy, too.
Travel by sea
There are five national parks located in marine areas. Many destinations have various transport options available to visitors without a boat. Read more about the destinations: Nationalparks.fi
We respond to the national aquaculture and blue bioeconomy strategies by looking for sea areas suitable for aquaculture, developing co-operation with various stakeholders, and leasing areas suited for fish farming to companies.
In the Finnish Exclusive Economic Zone (EEZ) and state-owned public sea water areas, simply paying a fisheries management fee entitles the holder to engage in commercial fishing. Persons aged 18-64 are required to pay the fisheries management fee. The exception is the fishing grounds for salmon and trout, which are rented for a maximum of five years at a time to a commercial fisherman with a salmon quota per operator.
Read more
We also operate in inland waters
Activities in the catchment area of the Baltic Sea, which is about four times larger than its actual surface area, play a major role in the condition of the sea.
In freshwater bodies, our actions include improving migratory fish habitats, for example by removing minor obstacles hampering migration and restoring habitats.
We take water protection into consideration in all forestry operations. The aim of our water protection measures is to prevent solids washout and nutrient leaching and to clarify runoff waters as efficiently as possible. Small headwaters are the most sensitive to forestry operations, and we pay particular attention to protecting them.
Particularly in sensitive areas, catchment area analyses are produced to support the planning of water management measures. These analyses can be used to assess the total load caused by harvesting, tillage, drain maintenance and fertilisation measures in the relevant catchment area.
We take part in the Baltic Sea challenge
We participate in the Baltic Sea Challenge, a network initiative which invites organisations to make commitments to protecting the Baltic Sea as well as to produce and implement their own Baltic Sea Action Plans.
Metsähallitus participates in the Baltic Sea Challenge through five policies, which promote different themes of our responsibility programme. The measures include both concrete restoration work as well as guidance and monitoring.