Cultural Heritage in the Midst of Finnish Nature
In a land of vast forests, large northern fell areas and a long coastline, thousands of cultural heritage sites and traces of human activity have been preserved in the nature.
The most impressive part of this cultural heritage are landscapes shaped by interaction between man and nature. Medieval castle ruins, fortress islands and reindeer round-up sites of the Sámi people are all situated in magnificent landscapes in the midst of northern nature. Today most of these sites belong to nature conservation areas (protected areas).
There are thousands of prehistoric or historical sites in state-owned lands. They include Stone Age dwelling sites, hunting pits, burials, sacred sites and tar pits. Cultural heritage sites from later periods largely comprise crofts and meadow barns, tracks, logging cabins and timber floating structures dating back to the 1900s.
Some of the historical sites are related to the history of forestry, including forest ranger´s farms, which today tell us about life in the woods a hundred years ago and preserve old agricultural landscapes with their valuable species.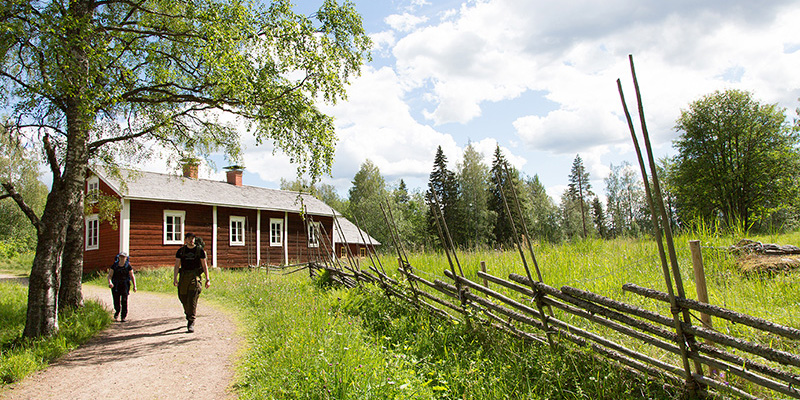 Underwater Cultural Heritage
As a treasure trove of cultural heritage, the Baltic Sea is unique by international standards. The brackish waters of the Baltic Sea have preserved nautical structures and shipwrecks going back to the Middle Ages. Wrecks older than one hundred years are relics protected under the Antiquities Act.
There are dozens of known shipwrecks in the sea areas managed by Metsähallitus. The cultural heritage of our inland waterways, on the other hand, includes structures for timber floating and fishing dams as well as pre-historic settlements that have become submerged over time.
Taking care of cultural heritage
Metsähallitus has a statutory obligation to safeguard the prerequisites for Sámi culture in the Sámi Homeland and to preserve cultural heritage in many national parks. Under the Act on Metsähallitus, the authority responsible for taking care of cultural heritage in conservation areas is Parks & Wildlife Finland.
Cultural heritage is also a great attraction to visitors. You can learn more about history by visiting the sites themselves, our visitor centres, or web pages. Visitors are welcome to explore traditional ways of farming, or you can apply for a chance to spend a week as a shepherd, caring for livestock in a remote location.
More information