Cherishing Cultural Heritage Amongst Nature
Finnish culture traces its origins to the forests, the northern fells and the coast. Cultural heritage sites in nature, or relics and traces of the past, nowadays often belong to a nature reserve or a wilderness area. Our magnificent landscapes, medieval castle ruins, mighty fortresses, old buildings and farms also reflect centuries of Finnish history. Some cultural heritage sites are found under water, too.
Under the Act on Metsähallitus, the authority responsible for the management of cultural heritage property in conservation areas is Parks & Wildlife Finland.
We manage heritage sites ranging from national landscapes to logging cabins and small farms. Before a building or a site is managed and restored, a natural and historical evaluation is carried out.
The data on documented sites are saved in the geographic information systems of both the Finnish Heritage Agency and Metsähallitus. In Metsähallitus, the data are available for planning officers. We have collected data on cultural heritage in conservation areas as part of planning their management for over 20 years. Metsähallitus Forestry Ltd carried out an extensive survey of commercial forests in 2010–2015.
We use the data and surveys on cultural history when planning the management of these sites, including new trails or forest restoration in protected areas, or silviculture in commercial forests. The staff and the contractors also have fieldwork guidelines.
Ancient sites
Ancient sites which have remained intact in the terrain carry a valuable message from prehistoric times or are monuments that remind us of historical events: places of worship, hunting traps, tar pits and ruins, boulders marking a border and fortresses.
There are ca. 10,000 ancient sites or old structures in the commercial forests and over 6,000 sites in the conservation areas. A number of shipwrecks are also found in areas managed by Metsähallitus. Next to these sites, signs of change which began in prehistoric times can be seen: patches where forest has been cleared for slash-and-burn agriculture or pastures for cattle as well as trails user by travellers and hunters.
Ancient sites and relics are protected by the Antiquities Act, under which they may not be destroyed or disturbed. When conserving and restoring forests and landscapes, this must be taken into account. As part of each area's management plan, the exact locations of ancient relics are determined, and the management of the sites is planned in cooperation with the antiquities authorities.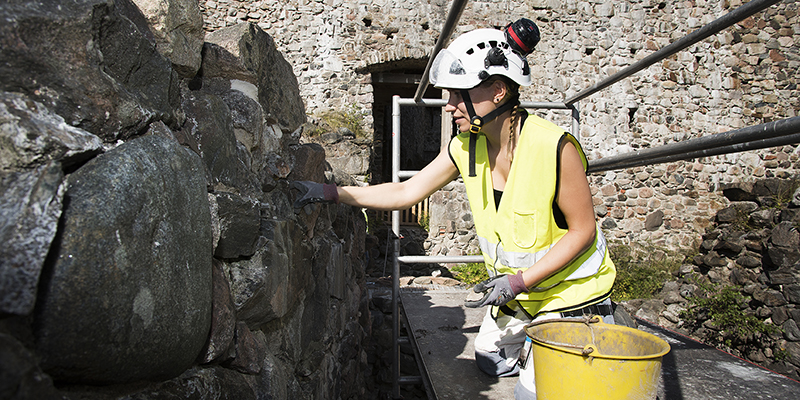 Built heritage
Parks & Wildlife Finland maintains around 400 historic buildings and structures that are protected under legislation. They range from Sámi reindeer round-up sites in Northern Lapland to old dwellings in the southwest archipelago. Most of the buildings are forest ranger´s homes and old crofts, loggers' cabins and open wilderness huts, fisherman's cabins and meadow barns. They are reminders of old types of livelihoods, building skills and people's attitudes towards the environment they lived in.
The best method of care is to find a new use for such structures, otherwise buildings which have been lived in for hundreds of years are in danger of disappearing.
Protecting buildings means caring for, maintaining and restoring them while preserving their cultural and historical value. We restore old buildings and work with locals to find a suitable use for each one. Old forest crofts are now heritage farms where traditional landscapes are managed and preserved, or nature information huts for visitors in national parks. Logger's cabins and open wilderness huts have been restored to accommodate visitors.
Cultural heritage of semi-natural grasslands and wetlands
Slash-and-burn agriculture and other old forms of land use have shaped Finland's traditional agricultural landscapes, which are our most diverse but also most endangered biotopes. The remaining meadows, pastures and slash-and-burn forests are fragmented, while farming has become a large-scale industry.
The abundance of species in these areas was due to farming practices and the grazing of livestock. Continuing these activities is the only way to ensure that all these species will survive in the future. With the help of volunteers, Parks & Wildlife Finland cares for over 5,000 hectares of traditional agricultural landscapes in state-owned areas.
We also maintain the old buildings that belong to these landscapes as part of our history that goes back decades and even centuries.
Heritage farms combine the preservation of nature and cultural heritage. Old plant species are conserved, old buildings maintained, and old manual skills practised.
The Ramsar Convention on Wetlands is an international treaty for the conservation and sustainable use of wetlands. There are 49 Ramsar sites in Finland, ranging from the shores of the Baltic Sea to mires in Lapland.
Commissioned by the Ramsar Convention Secretariat, the Finnish database was updated with summaries of each site's cultural values by Parks & Wildlife Finland in 2018. Most of the Finnish Ramsar wetlands are sparsely settled or unsettled natural environments. Archaeological cultural heritage, which is present in almost all wetlands, was thus emphasised.
Our Ramsar wetlands contain over 2,400 archaeological sites. Their time span varies from the oldest dwelling sites, which date back to the Mesolithic Stone Age (7,400 to 4,300 BC), to traces of important traditional sources of livelihood that continued until the 20th century. Examples of such remains are barns along streams and traces of haymaking in wet meadows.
The maritime Ramsar wetlands in Finland offer a great abundance and high density of sites. Most of them are related to fishing: huts, camps, stone compasses and ovens, as well as boat structures. There is also evidence of the traditional practices of mowing and grazing, which have partly continued until the present day. 
Underwater Cultural Heritage
As a treasure trove of cultural heritage, the Baltic Sea is unique by international standards. The brackish waters of the Baltic Sea have preserved nautical structures and shipwrecks going back to the Middle Ages. Wrecks older than one hundred years are relics protected under the Antiquities Act.
There are dozens of known shipwrecks in the sea areas managed by Metsähallitus. The cultural heritage of our inland waterways, on the other hand, includes structures for timber floating and fishing dams as well as pre-historic settlements that have become submerged over time.
Many springs are associated with folk traditions that have a long history, or they have been important resting places for travellers. This is why some of them have been protected under the Antiquities Act.
More Information