Parks & Wildlife Finland
Parks & Wildlife Finland is a unit of Metsähallitus, which manages state-owned lands and waters all over Finland. Parks & Wildlife Finland is in charge of public administration services such as nature and cultural heritage protection and fishing and hunting permits. We also provide free facilities for hikers.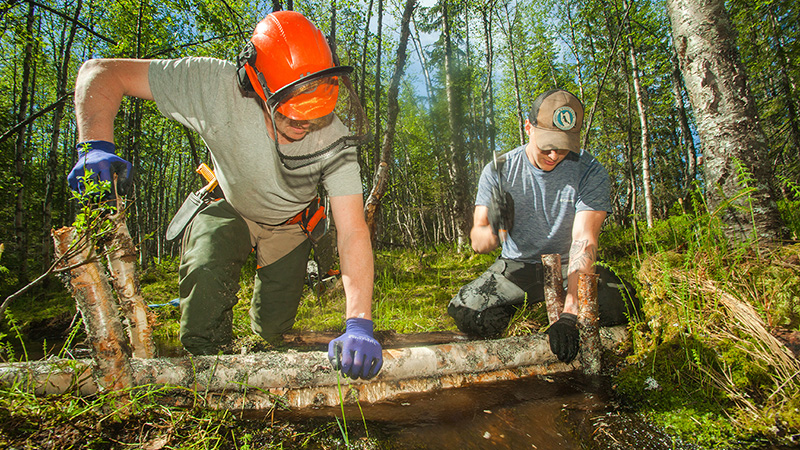 The services of Parks & Wildlife Finland are largely financed from the national government budget. Income from fishing and hunting permits is used to manage hunting grounds and fishing waters. We work with various partners on projects where the public funding is used to leverage wider funding and benefits.
Parks & Wildlife Finland is comprised of National Parks Finland and Wildlife Service Finland.
National Parks Finland
In 2021, we restored or managed nature in a historically large area of almost 13,000 hectares. We restored peatlands and mires and brooks towards their natural state. The meadows and pastures found in some nature reserves are the most diverse habitats in Finland, and need management to preserve the diversity. Withe the help of cattle-owners livestock, we prevent overgrowing – for more than 5,000 hectares per year.
Finland's national parks welcome more than 4 million visitors annually – in a land of 5.5 million inhabitants. The newest national park, Salla in North-East Lapland, was established on January 1st 2022.
Visitors to national parks, national hiking areas and other protected and recreational areas contributed over EUR 300 million to local economies in 2021.
Wildlife Service Finland
State-owned areas give everyone access to these wilderness activities. Every year, around 150,000 different permits and licences for hunting and fishing are sold. The state-owned areas are used also by those who fish and hunt under special rights, such as free angling and ice fishing rights. Altogether, fishing and hunting enthusiast spend almost two million days a year pursuing these activities on state lands and waters.
The proceeds from the permits go towards managing game and fisheries and securing the future of hunting and fishing in Finland. Revenue from permits is used, for example, for restoring and managing game and fish habitats.
Organisation and Contact Information
The operations of National Parks Finland are
protected area management planning
nature and cultural heritage conservation
recreation and nature tourism.
Parks & Wildlife Finland is headed by the Director who is also the director of National Parks Finland. The Regional Directors are in charge of the four regional units of National Parks Finland.
Wildlife Service Finland is headed by the Director of Game and Fisheries.
Contact information of Parks & Wildlife Service Finland