Forestry and Environment
Environmental management in Metsähallitus Forestry Ltd. has four cornerstones: legislation, certified management systems, detailed guidelines, and detailed forest resource information. All activities are underpinned by European and national legislation on forestry, the environment and labour rights. Compliance with legislation is never compromised on in forestry operations.
Our strategic environmental goals are
Halting biodiversity loss
Climate change adaptation and mitigation.
We work systematically to preserve biodiversity in state-owned forests. This work goes on in conservation areas and multiple-use forests alike. Many of our environmental management measures are carried out together with experts from Parks & Wildlife Finland, often also in cooperation with other actors.
Active environmental management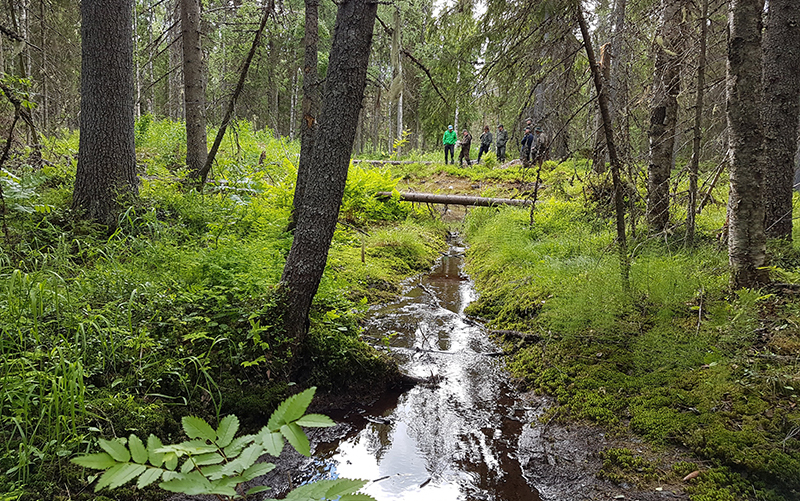 Active habitat management in forestry includes prescribed burning, burning of retention tree groups, mire and stream restoration, removal of barriers to fish migration in watercourses, control of invasive alien species as well as management of sun-lit environments and herb-rich forests.
Climate-smart forestry
Climate-smart forestry is promoted by good planning, paying attention to the environmental risks of energy wood harvesting, introducing additional ecological management measures, and improving water protection.
Metsähallitus Forestry Ltd. manages over 3.5 million hectares of forests, which have a significant atmospheric carbon sequestration impact as both a carbon sink and storage. Maintaining and improving the forest's capacity to sequestrate and store carbon is part of responsible management.
In order to avoid any increase in emissions from timber procurement, Metsähallitus uses rail transport and log floating and strives to optimise timber transport. In addition, Forestry Ltd. recommends that its suppliers use state-of-the-art machinery.
Social and cultural approach
Instructions for the management of forests near residential and tourist areas have been developed to improve socio-cultural sustainability.
Forests and cultural heritage go hand in hand in Finland. Cultural heritage sites in multiple-use forests have been systematically inventoried in accordance with the objectives of the National Forest Programme (NFP). More than 10,000 archaeological sites have been identified and recorded in our geographic information system. This makes it possible to protect ancient monuments and cultural heritage sites when forestry operations are carried out in the area.