Path to Nature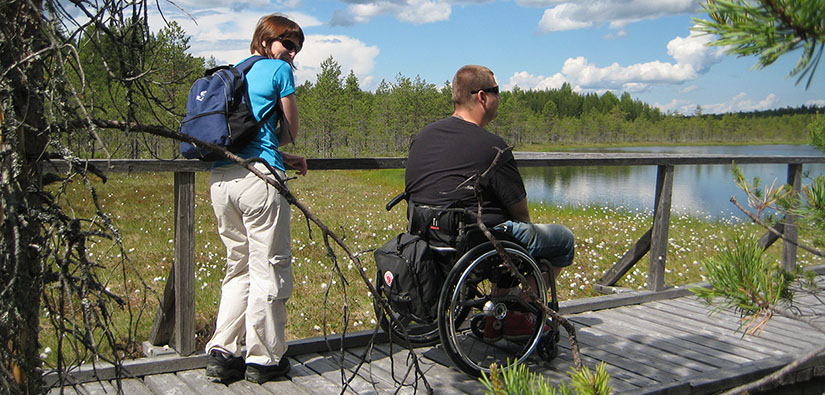 The project Path to Nature brought Outdoor recreation opportunities for everybody.
For many Finns, nature is an important environment for physical activity. Outdoor activities and using nature as a source of recreation and relaxation are an important part of Finnish culture. For this reason, everybody should have equal opportunities to enjoy nature and experience the wellbeing effects of nature.
About one million Finns require adapted physical activity on a daily basis or at some point in their lives. A disability or an illness may seriously impact your mobility and it may also mean that you are not able to take part in leisure activities together with your family and members of your community. People relying on mobility aids and people whose disability or illness is not visible were the main target group of the project Path to Nature.
Health promotion professionals and experts, as well as entrepreneurs, public sector actors and organisations providing outdoor recreation services were also a key target group.
Objectives
Adapted outdoor recreation path. Examining opportunities for outdoor recreation from the perspective of adapted physical activity, and modelling a method for service design. Providing different actors with clearer roles in the provision of opportunities for outdoor recreation activities and in the encouraging of the activities. Identifying factors decreasing/increasing the attractiveness of outdoor recreation.
More outdoor activities. Creating a long-term basis for encouraging individuals and communities to engage in outdoor recreation activities, and for promoting outdoor rehabilitation.
Communications and networks. Creating communications and cooperation models supporting outdoor recreation.
Development measures
Arranging service design events for adapted outdoor recreation activities at outdoor recreation sites using different themes and priorities.
Preparing new outdoor recreation planning tools.
Establishing networks and cross-sectoral cooperation structures to promote adapted outdoor recreation.
Implementation and funding
Path to Nature was a nationwide project (2017–2019) and it was implemented in a multi-professional and cross-administrative manner.
Multi-professional cooperation provides a basis for the development of new practices for encouraging outdoor recreation, for ensuring that the services are more demand-oriented, and for using the health and wellbeing potential of nature. Services provided by entrepreneurs, such as programme and rental services, support the provision of outdoor recreation opportunities.
The project was part of the Healthy Parks, Healthy People health promotion programme of Parks & Wildlife Finland.
The project received funding from the Ministry of Education and Culture as part of the national development grants for promoting physical activity. You can freely use the project results.
Contact information
Parks & Wildlife Finland
Specialist Matti Tapaninen
matti.tapaninen(at)metsa.fi
tel. int. +358 206 39 6808
The Finnish Adapted Physical Activity Federation SoveLi
Specialist Virpi Mäkinen
virpi.makinen(at)soveli.fi
+358 40 551 4468
Last updated 7 December 2022