Defence Arch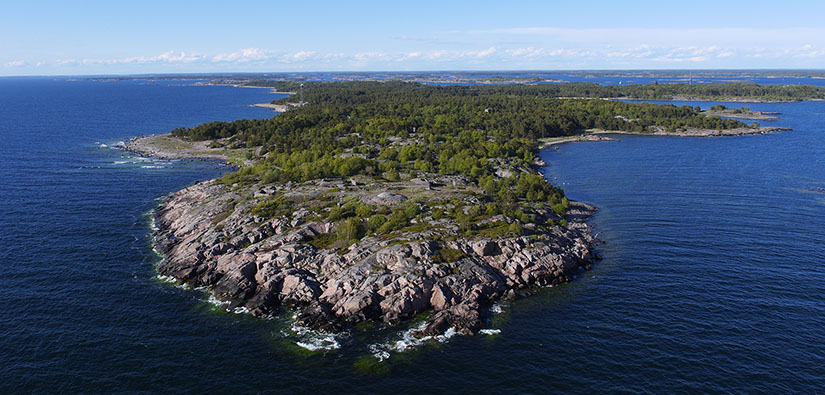 The project "Defece Arch – Footprints of Defence in the Archipelago" developed historical sites of coastal defence into attractive tourist destinations in the Archipelago Sea and the Åland Islands in Finland and in the Stockholm archipelago in Sweden.
The project involved restoration of old fortifications and structures, piloting of digital and virtual guidance, and collaboration in order to enhance the attractiveness of the sites.
Metsähallitus, Parks & Wildlife Finland was responsible for the restoration of fortifications in the southern tip of Örö island in Archipelago National Park. We built a circular trail in the area of the barracks and the fortress, and opened new, interesting destinations for visitors.
A rest stop, an observation tower and a short suspension bridge were built along the trail. The restored destinations include defence structures of various ages, such as concrete air defence posts, the ruined stations, ammunition storage facilities and shelters of the artillery battery built a hundred years ago, one modernised Canet gun and its subterranean station.
The so-called six-inch barracks area was be restored for use as a camp base for scouts and school groups, by constructing a camping site for tents and converting a supplies storage facility into a dining and multi-purpose facility. In addition, an exhibition presenting the area and its history was housed in the ammunition storage facility built of stone in 1915. One of the barracks' underground cellars was opened for visitors. The vegetation was cleared at the stone footing of Finland's first canteen for conscripts of coastal artillery and the control tower for targeting of heavy artillery was equipped with the required weather protection.
Guidance focused on testing and development of mobile guidance in collaboration with other project partners, with the aim of introducing a clear, user-friendly and interesting mobile guidance application to Örö island. Guided tours will give visitors access to some previously locked underground caves and posts.
Project schedule: 1 September 2016 – 28 February 2019.
Project budget: Total funding was € 1.534,661. The share of Parks & Wildlife Finland was € 459,000 which was mostly financied by the Central Baltic Programme (€ 344,250).
Contact Information
More information: Sanna-Kaisa Juvonen
Parks & Wildlife Finland
sanna-kaisa.juvonen(at)metsa.fi
Project partners and sites:
Turku University of Applied Sciences – Lead partner
Parks & Wildlife Finland: – Örö / Archipelago National Park
Åbolands Skärgårdsstiftelse – Korpoström
Visit Åland: Bomarsund
Skärgårdsstiftelsen i Stockholms län: Gålö (Archipelago Foundation of Stockholm archipelago)
Last updated 28 April 2020