Hydrology LIFE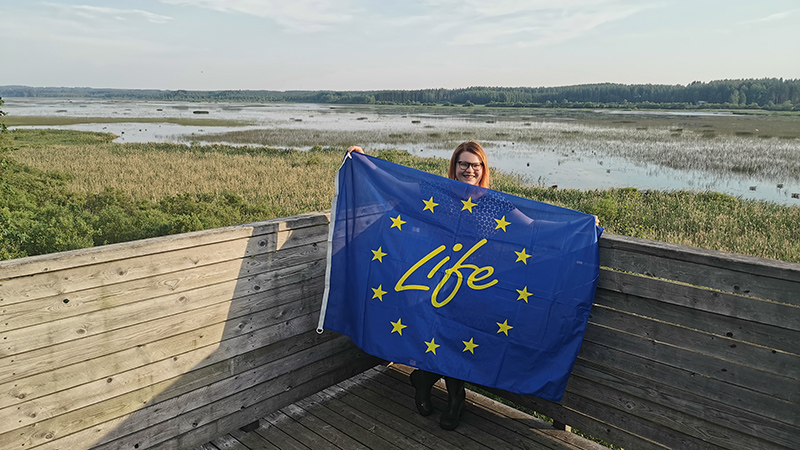 Hydrology LIFE project takes actions towards wellbeing wetlands in Finland.
We safeguard peatlands, small water bodies and important bird lakes in over 100 Finnish Natura 2000 areas.
These environments have undergone major changes in recent decades. The restoration measures recover the degraded habitats towards the original state vital for many valuable species. Many functions important for humans, including e.g. flood protection, water quality and game areas, will also be improved.
Last project year approaching
The large Hydrology LIFE project started in the summer 2017. The last project year 2023 is now approaching fast. We block ditches in peatlands, return small streams to their old routes and a better condition, and we restore important bird lakes. In addition, many of the research works are in full swing. Over 4,000 hectares (78%) out of the goal of 5,200 hectares have already been restored. During the year 2021 we restored over 1,520 hectares and restoration work in 41 sites.
Read more about the targets and results of the project!
We have recently published a set of Wetland Cards to give tips on how we all can help the wetlands and benefit from it, too.
Wetland cards are pdf files at the address julkaisut.metsa.fi:
Wetland card 1 Excessive water from forest to peatland
Wetland card 2 Grazing animals help coastal meadows
Wetland card 3 Help nature in the Wetland Game
Wetland card 4 Peatland biodiversity benefits many
Wetland card 5 Return brooks to the fish and anglers.
Project information
The European Union LIFE funding covers 60% of the nearly EUR 9 million budget of the Hydrology LIFE (LIFE16NAT/FI/000583).
The project runs between 1st August 2017 and 31st December 2023.
The project is co-ordinated by Metsähallitus, Parks & Wildlife Finland.
Other beneficiaries include North Savo and Central Finland Centres for Economic Development, Transport and the Environment, Finnish Forest Centre, Tapio Oy, Natural Resources Institute Finland, Metsähallitus Forestry Ltd, and the universities of Jyväskylä, Oulu and Turku.
Project Manager Eerika Tapio
Metsähallitus, Parks & Wildlife Finland
+ 358 206 39 4225
eerika.m.tapio@metsa.fi
Towards flourishing peatlands in Finland – Hydrology LIFE project safeguards globally threatened wetlands
When the migratory birds leave the wetlands of Finland in autumn we want to raise awareness for safeguarding the precious peatlands. The article is also published in Peatlands International – The global IPS member magazine on all aspects of peat and peatlands (issue 3, September 2021). For more information on Peatlands International publications, see peatlands.org/publications/
Hydrology LIFE Project Video (youtube.com)
The project has received funding from the LIFE Programme of the European Union. The material reflects the views by the authors, and the European Commission or the CINEA is not responsible for any use that may be made of the information it contains.