Hydrology LIFE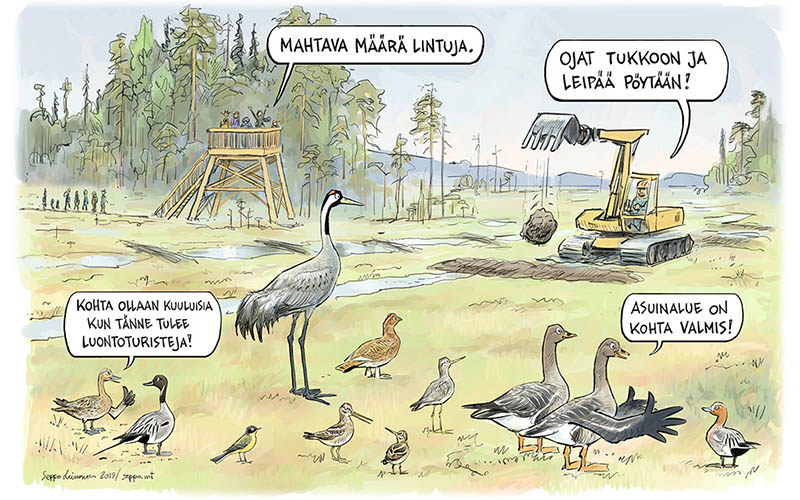 Hydrology LIFE project safeguards peatlands, small water bodies and important bird lakes in 103 Finnish Natura 2000 areas. These environments have undergone major changes in recent decades. The restoration measures recover the degraded habitats towards the original state vital for many valuable species. Many functions important for humans, including e.g. flood protection, water quality and game areas, will also be improved.
Restoration of peatlands, small water bodies and important bird lakes
Majority of peatlands in Finland are severely degraded by forestry-drainage, including also areas within N2000 sites. The blocking of ditches and removal of trees on 5200 hectares in and around 95 Natura 2000 sites recovers the wet and open habitats crucial for many valuable species. The measures also restore peatland's ability to store water, nutrients and carbon. New methods for simultaneously improving biodiversity conservation and water protection are developed.
Dredging, channelization and drainage are widely decreasing the ability of streams and ponds to sustain their natural communities and control the circulation of water. We restore 34 km of degraded streams and raise water table in 17 ponds to recover their natural hydrological functioning, and to regain valuable species.
The open water areas and mosaics of water and vegetation, that are important as bird nesting and breeding habitat, are decreasing in many lakes due to overgrowth by vegetation and nutrient loading from the surroundings. We create open water areas and increase the mosaic structure of habitats e.g. by dredging and raising the water table to improve the habitat quality on four especially important bird lakes.
Inventories and monitoring
The wide range of inventories and long-term monitoring by the project provide invaluable data on how restoration can be used to preserve the biodiversity, to improve water quality and to slow down climate change. The information gained by examining how local people and the recreational users of protected areas feel about restoration can be used to develop restoration measures.
University of Oulu examines the impacts of restoration
Our project partner, the University of Oulu, examines the impacts of peatland restoration in a long scale, from 10 to 15 years. The impacts on the water quality of peatlands and drainage areas is monitored by hydrological measuring and analysing peat. The aim is also to find out how the remote sense mapping can benefit monitoring the impacts of restoration.
University of Oulu Science Garden videos present some of the main methods. You can choose text versions in English for the videos:
Remote sensing tools in restoration monitoring
Understanding and monitoring the effects of ecological restoration is one of the key challenges during the forthcoming United Nations Decade of restoration. Remote sensing provides huge possibilities for achieving data and results that cannot be reached by field work. Despite recent important advances, few methods can be directly taken up by practitioners interested in monitoring the change of peatland ecosystems.
Workshop on remote sensing tools
We arranged (September 2019) a workshop tackling the challenges of remotely monitoring ecosystem development after restoration. We invited experts developing or using drones, satellite images or other remote sensing tools in monitoring peatland ecosystems. Special focus was in peatlands restored after decades of forestry use.
Raising awareness
Successful conservation requires better public understanding on the wide range of wetland values. We raise public awareness by developing effective and innovative communication methods, such as a wetland simulator and material for teachers and nature centres.
WetlandGame free online
In the WetlandGame, your task is to protect the vitality of nature and at the same time ensure people´s livelihood. The WetlandGame (Kosteikkopeli) is online: https://kosteikkopeli.jyu.fi/
Project information
The European Union LIFE funding covers 60% of the nearly EUR 9 million budget of the Hydrology LIFE (LIFE16NAT/FI/000583).
The project runs between 1st August 2017 and 31st December 2023.
The project is co-ordinated by Metsähallitus, Parks & Wildlife Finland.
Other beneficiaries include North Savo and Central Finland Centres for Economic Development, Transport and the Environment, Finnish Forest Centre, Tapio Oy, Natural Resources Institute Finland, Metsähallitus Forestry Ltd, and the universities of Jyväskylä, Oulu and Turku.
Project Manager Eerika Tapio
Metsähallitus, Parks & Wildlife Finland
+ 358 206 39 4225
eerika.m.tapio@metsa.fi
The project has received funding from the LIFE Programme of the European Union. The material reflects the views by the authors, and the European Commission or the CINEA is not responsible for any use that may be made of the information it contains.
Last updated 21 October 2021