Flying Squirrel LIFE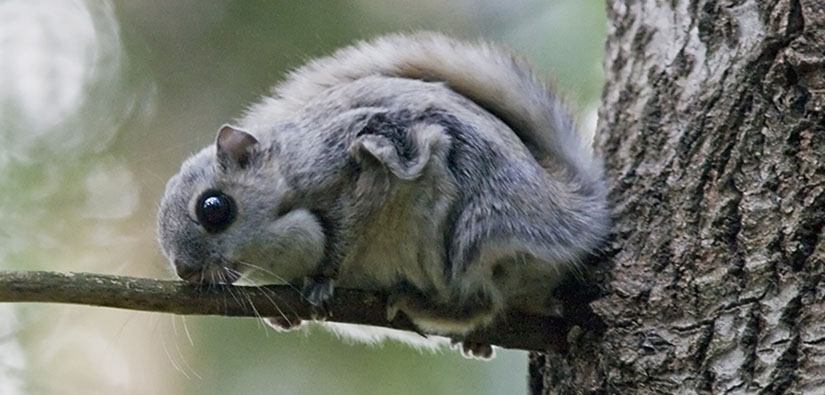 Flying squirrel on Camera
Have a look at a flying squirrel nest!
A camera is installed opposite a flying squirrel nest in NE Finland.
You can now watch an see on video (sll.fi), if a mother squirrel comes out of the nest at twilight to feed. It may also change the nest to a new one and take the young with her. At daytime, the squirrels rest.
The camera is set up by the Finnish Association for Nature Conservation.
Co-operation for improving the conservation of the flying squirrel in the European Union
Metsähallitus Parks & Wildlife Finland coordinates the project (2018–2025) that aims to improve conservation of the flying squirrel in the EU by improving viable habitat networks in the future.
The European Union LIFE Programme finances most of the total project budget of 8.9 million euros. There are together 18 partner organizations representing different sectors from Finland and Estonia.
Habitat networks of the flying squirrel in key position
In the European Union, flying squirrel can be found only in Finland and Estonia and its conservation status is unfavorable. The main threats for flying squirrel are habitat loss and fragmentation. The latest evaluation of conservation status in Finland defines flying squirrel as vulnerable.
Flying squirrels favor old mixed forests that also have reasonable economical value. In addition, unexpected presence of flying squirrel and limited knowledge of its occurrence cause delays in land use. Thus, conflicts between conservation and land use are common and attitudes towards the flying squirrel can often be negative.
New procedures that take flying squirrel into account in land use planning are developed and introduced during this project. The project focuses on supporting habitat network: flying squirrels need ecological corridors with forest cover for moving between good habitats. It also needs protected breeding and feeding areas.
A wide perspective needs collaborators from many sectors. We will increase knowledge and networking between stakeholders as well as communicate with general public and develop environmental education.
Project actions
Increasing the flying squirrel knowledge and improving accessibility of occurrence data
One key problem in flying squirrel conservation is the lack of knowledge. In order to get more comprehensive and accessible flying squirrel data, the Finnish Museum of Natural History will develop an observation database (Finnish Biodiversity Info Facility, www.laji.fi). Flying squirrel inventory methods will be developed, and guide material will be produced by the Finnish Association for Nature Conservation. Education for field inventories will be provided for forest planners and other interested people. A new method of using nature charting dogs in locating flying squirrel occurrence will be introduced and tested. In addition, the Natural Resources Institute Finland will build habitat models that combine observations and different environmental factors and produce predictive maps of species occurrence. These maps tell where potential flying squirrel areas are located and are a useful tool for planning inventories and land use.
Joint planning in urban and forestry sites to maintain viable habitat network
Stakeholders from forestry, landowners and nature conservation will make management plans together for ca. 40 sites in private and state-owned managed forests in Finland. Three cities, Espoo, Jyväskylä and Kuopio will combine their strength in urban areas. At a set of urban sites, the effect of previous actions will be evaluated, and new management plans will be made for 20 sites. In addition, habitat networks in the cities will be supported by setting up nest boxes and planting young trees to form ecological corridors for flying squirrels to use between ranges. All the sites will first be inventoried to determine flying squirrel occurrence. After inventories and evaluation, the suitable management methods to maintain viable habitat network will be planned and executed in managed forests and urban areas.
In Estonia, ca 21 forest sites in state owned and surrounding private lands will be inventoried and the management will be planned and executed together with the environmental board, forestry operatives and conservation experts. As short-term conservation actions in Estonia, 250 next boxes will be set up in key habitat areas.
Aspen is an important tree species for flying squirrel because it offers food and nesting holes. Aspen continuity in the future will be supported at 16 sites in Natura 2000 areas and nearby managed forests in Finland by opening growing space and protecting young aspens with enclosures. These actions ensure that there will be aspens in different age classes growing and available in the future, too.
Pre- and post-situations of flying squirrel occurrence and habitat structure at the management sites wll be carefully documented, and sites will be monitored in the following years. Gathered information is the base for educational material for stakeholders and sites will also be used for field excursions to provide practical know-how for e.g. land owners and forest planners.
Environmental education and communication
One of the big goals of the project is to increase knowledge of the flying squirrel among stakeholders and people. New permanent exhibitions will be built in the Finnish Nature Centre Haltia and Kuopio Natural History Museum in Finland, and in the nature centre Iisaku in Estonia. Also, a smaller touring exhibition will be created and borrowed for educational purposes all over Finland. In Kuopio, a special ambassador will visit local schools introducing the life of the flying squirrel. In addition, two new nature paths with info tables will be built to serve hikers in flying squirrel forests in Jyväskylä and Rekijokilaakso.
Several public events such as lectures, theme days and field trips, will be organized in Jyväskylä, Kuopio, Nuuksio National Park and at Estonian sites. Stakeholders (e.g. landowners) will be provided consultation and practical field excursions. Finally, open seminars presenting results and procedures will be arranged both in Finland and Estonia.
During two summers everyone will have a chance to have a peek at a flying squirrel family via live-stream camera set up in a nesting box.
Contact information
Project manager Eija Hurme
Parks & Wildlife Finland
Tel. int. +358 206 39 6270
E-mail: eija.hurme@metsa.fi
Project Officer Anni Koskela
Parks & Wildlife Finland
Tel. int. +358 206 39 6011
E-mail: anni.koskela@metsa.fi
There are altogether 18 project partners.

The project has received funding from the LIFE Programme of the European Union. The material reflects the views by the authors, and the European Commission or the EASME is not responsible for any use that may be made of the information it contains.
Last updated 23 November 2020