Results of the PAN Project
PAN – Phenomena of Arctic Nature was a project that addressed both nature and nature tourism. Its main objective was to raise awareness of arctic nature and its unique phenomena in the nature tourism sector.
We wanted to provide sustainable, easy access year-around services, highlight the different natural phenomena in the succession of seasons through various educational materials and thus enhance knowledge about Arctic nature in the field of tourism. PAN-project also created possibilities for capacity building and networking between project partners and tourism business through workshops and seminars.
The results of the project are diverse, colourful and multilingual infrastructure, services and awareness raising materials to be used by tourism businesses and their customers, visitor centres, local people, youth – a wide range of target groups.
New service structures in the terrain
Construction work took place in Salla: a number of structures of a new type for observing natural phenomena were created in the area around Sallatunturi Fell. A structure for observing nature was also built near the city of Apatity in Russia. In Norway, Øvre Pasvik National Park restored old buildings for a new use as a visitor centre. The structures built as part of this project provide easy access to the natural environment nearby and offer an excellent setting for observing arctic nature while having a rest.
Observation bases for Arctic natural phenomena present modern wooden architecture. Norwegian Architect office made the blueprints, locations were decided in cooperation with local tourism businesses and the construction was made by local carpenters. Observation bases in Salla, Finland, provide visitors with east access to nature and highlights different landscapes and nature types.
Read more about the services in Salla National Park (nationalparks.fi)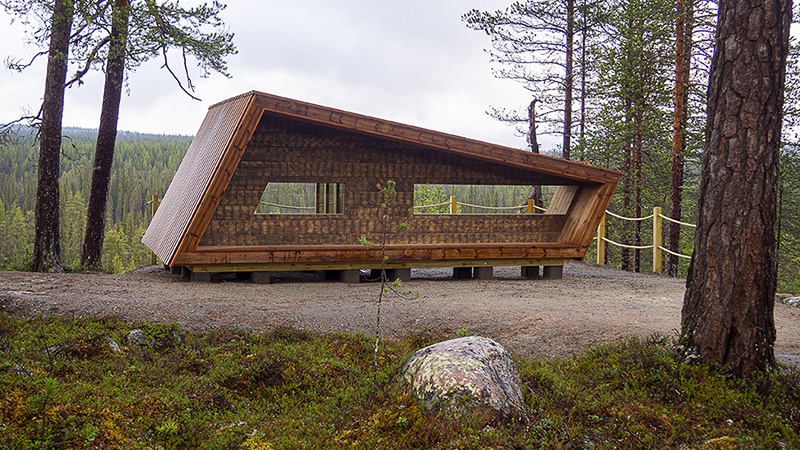 A rural courtyard with ancient houses in Pasvik river valley was upgraded into Visitor Point Gjøken for Øvre Pasvik national park in Norway. The old houses on the yard of the new visitor point were restored for the authenticity and protection of their historical integrity. The new main house was brought to the site 5 kms away. That house had earlier been used for accommodation in connection with forestry activities, and now it is a service house for events and guiding.
Environmental education an information about nature
Five permanent exhibitions were built to visitor centres in three countries. Visitor centres are windows to the protected areas in their vicinity. Visitor centres provide actual information about the protected area and give guiding over the conditions and hiking. Also, the visitor centres are sights as such.
There were altogether 17 different educational materials made during the project. The teaching and environmental education materials created in the project add up to a multilingual, international whole, which is at the disposal of youth and nature centres, visitor centres and schools.
Visitor centres with new exhibitions:
Customer Service Kiehinen in Urho Kekkonen National Park at Saariselkä, FI by Metsähallitus
Visitor Point Gjøken, Pasvik River Valley, NO by NIBIO and Øvre Pasvik National Park Board
Pasvik State Nature Reserve's Visitor Centre in Nikel, RU
INEP's Khibiny -exhibition in Apatity, RU
Workshops to develop skills and capabilities
The first in a series of events organised by the project was a timber architecture workshop held in Norway's Pasvik Valley in October 2019. The participants brainstormed ideas for using local timber in construction for tourism and outdoor recreation infrastructure in the north.
The focus of this hands-on workshop organised by Biotope, a Norwegian architecture company, was on working with the local arctic wood and timber, building with timber in conservation areas and their near vicinity, and taking the local economy into account.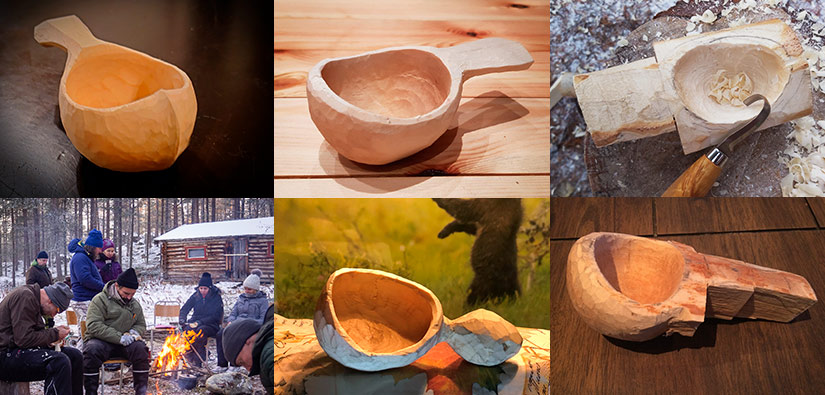 Pandemic time forced get-togethers to online-mode, but luckily there were fine online tools securing continuum of cross-border cooperation.
While winter activities and Northern Lights tourism already are extremely strong brands, the project wished to address the major scope for improvement in service provision especially in summer. At international workshops, participants gained and shared new information, stepped up cooperation between tourism operators and organisations maintaining conservation areas, and picked up tips for developing new tourism products.
Last updated 5 October 2023