Light & Fire LIFE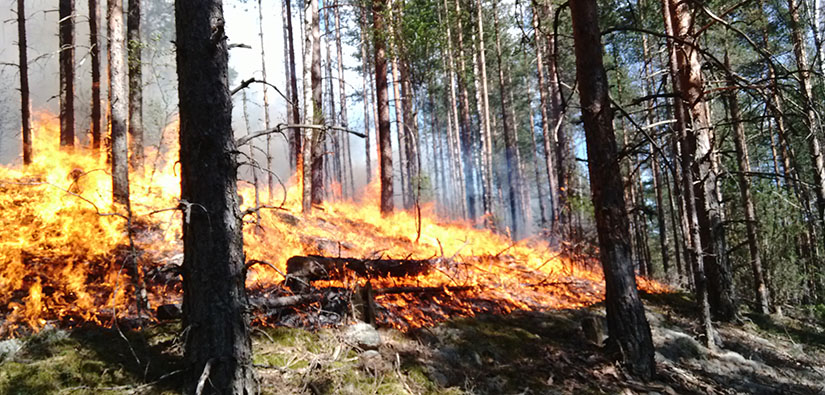 Light & Fire LIFE Project 2014–2020
Light & Fire LIFE Project aimed to protect the biodiversity of coastal meadows, dunes, eskers, heaths and other sunlit environments. The methods included environmental management-related burning, clearing of trees, the translocation of endangered species and removal of alien species. For the first time in Finland, a single project took care of land owned by the state as well as by private landowners and companies.
The Light & Fire LIFE project carried out work in 69 Natura 2000 areas all over Finland to benefit habitats created through heat or fire and the species which make their home in such environments. Fire once again spread through these areas, though in a controlled manner, to protect the environment's endangered and dwindling species, such as Pulsatilla patens and Thymus serpyllum. These species were also reintroduced to favourable growth sites. Bushes, trees, lake reeds and alien species such as Rugosa rose on the other hand, were removed in order to return the original level of heat and light.
Environmental education was also an important goal for the project. Camps for volunteers were organised in the archipelago and along the coast.
The Light & Fire project was one of the LIFE Nature projects financed by the European Union. Half of the project's EUR 4.06 million budget was received from the EU. The project was coordinated by Metsähallitus, Parks & Wildlife Finland. Project partners included HAMK University of Applied Sciences, the North Savo Centre for Economic Development, Transport and the Environment, The Finnish Forest Centre, UPM and WWF Finland.
The project was launched in August 2014 and finished in July 2020.
What are sunlit environments?
The flora and fauna in sunlit environments have adapted to dryness, high levels of radiation from the sun, high temperatures and sharp fluctuations in temperature, as well as sparse sources of food.
Previously, these environments were primarily created as a result of forest fires. Nowadays forest fires are dealt with very efficiently, meaning that sunlit environments are very seldom created naturally, and those that are, quickly succumb to overgrowth. Several demanding species of plants and insects which suffer in other environments thrive in sunlit environments. Only some of these environments which are home to valuable species are protected.
Learn more about the areas covered by Light & Fire LIFE (pdf, 2314 kB)
Restoration trail
A nature trail was extended and provided with new information for hikers and schoolchildren in Komio nature reserve by the project.
The information stands tell about the restoration work to help esker nature and include QR-codes. Further information on restoration of forests and management of sunlit habitats is available (in Finnish) by scanning the code with the mobile device equipped with a QR reader application.
International co-operation to exchange knowledge
Co-operation and exchange of knowledge is crucial in developing cost efficient restoration methods. Experts from Light & Fire LIFE visited Swedish LIFE Taiga Project (lifetaiga.se) to learn their experiences of restoration burnings in March 2016.
The close co-operation continued as the projects organized a joint workshop to develop use of fire in restoration of Natura 2000 areas. The event brought together experts from 8 European countries in April 2017.
The workshop showed clearly that fire is needed to maintain the diversity in boreal forests. Good examples from Sweden and Finland show that prescribed use of fire e.g. in forest restoration is a safe and efficient way to mimic natural fires that are currently absent from boreal forests. In addition to maintaining valuable species and habitats, the use of prescribed fire benefits also people e.g. by providing possibilities to train for fighting uncontrolled fires.
The Nordic Platform Meeting gathered 69 participants from LIFE Nature projects in Nordic countries and the Integrated LIFE NAT projects in Nordic countries and in Lithuania. The Platform Meeting took place on 11–13 June 2018, in beautiful Punkaharju, southeast Finland.
Further information
Senior Specialist, Outdoor Recreation and Visitor Management, Sanna-Kaisa Rautio
sanna-kaisa.rautio@metsa.fi

The project has received funding from the LIFE Programme of the European Union. The material reflects the views by the authors, and the European Commission or the EASME is not responsible for any use that may be made of the information it contains.
Last updated 21 August 2023