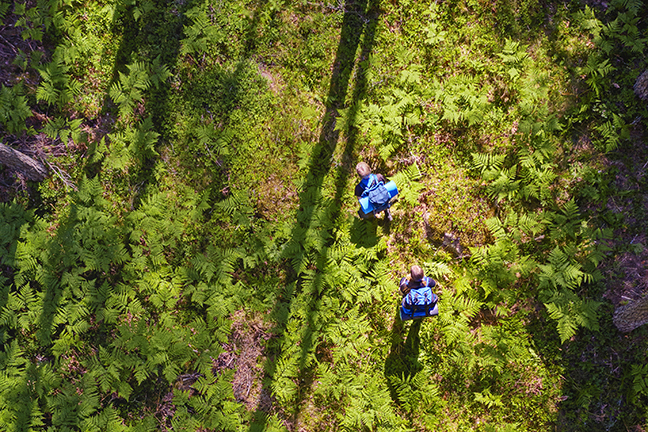 Last year saw a reshaping of Metsähallitus' strategy and brand, effective work to preserve biodiversity and mitigate climate change, and the expansion of wind power project development to sea areas. Due to the coronavirus epidemic, the number of visitors to National Park and the sale of hunting and fishing licenses grew significantly.
'In spring last year, we received the details of our new ownership policy and reshaped our strategy for the years 2021–2024. Our 'Fostering Our Future' strategy responds to both the expectations of our customers and stakeholder groups as well as the challenges of our operating environment, and at the same time also promotes the implementation of international agreements such as the UN Sustainable Development Goals,' explains Juha S. Niemelä, Director General of Metsähallitus.
In Metsähallitus' climate programme, work has been carried out to find solutions for mitigating and adapting to climate change. In line with its ownership policy, the goal of Metsähallitus is that the carbon sinks and carbon storage provided by state-owned multiple-use forests would increase by 10% by 2035. In 2020, the total carbon sink provided by multiple-use forests increased by 0.96 million tonnes CO2-eq. Over the same period, the carbon storage provided by the trees in multiple-use forests and protected areas increased by 4 million tonnes. Furthermore, the total climate benefit obtained in different value chains from renewable raw materials and energy originating from state-owned areas amounted to 3.3 million tonnes CO2-eq.
The share of continuous cover forestry methods increased to 31 percent. In Metsähallitus' observation areas for continuous forest growth, a new long-term operation project was launched together with different research institutes.
Last year also saw an increase in active nature management and environmental rehabilitation in multiple-use forests, and this work will continue in the coming years. By making use of the additional funding provided for both the HELMI programme and Metsähallitus' public administration tasks, it was also possible in 2020 to significantly increase work on environmental rehabilitation, nature management and nature inventories.
Towards the end of 2020, work began on natural resource planning in the Saami homeland. Last year also saw the completion of the nationwide updating process for the landscape ecological network of multiple-use forests, which supplements the ecological network.
Metsähallitus business operations remained solid
Metsähallitus Group's revenue in 2020 was EUR 340.3 million and its financial result was EUR 114.2 million. In line with the objectives set, the income paid to the state was EUR 120 million. Business operations also included a total of EUR 73.3 million of investment in biodiversity, recreational use of nature, Saami culture and reindeer herding.
Within the forest industry, demand for wood decreased at the start of the year due to the pandemic and labour market disputes, but then rose again towards the end of 2020. The impact of coronavirus on the forest sector has been smaller than was feared. Negative impacts on employees have been avoided because there is increasing demand for sustainably produced and renewable raw materials.
Metsähallitus' wind power project development has expanded to include sea areas, and the end of the year saw the initiation of the planning process for the first Metsähallitus offshore wind farm project, in Korsnäs. In addition, Metsähallitus initiated two more of its own wind farm projects and was involved in a number of smaller projects as the landowner. So far, 91 wind power stations have been installed, with a total energy output equivalent to the energy requirements of 45,000 electrically-heated detached houses.
The sale of pine seeds was a major factor contributing to the good financial result of Siemen Forelia Oy for 2020. At the same time, the financial result of soil resource company MH-Kivi Oy was negatively affected by asset write-downs. Sales remained at a good overall level due to factors such as the coronavirus recovery projects, which increased the volume of civil engineering work in domestic markets.
Spending time in nature is now even more popular
The popularity of spending time in nature and wilderness areas has been increasing for several years, and last year the coronavirus epidemic boosted it to record levels. The number of visits to national parks reached nearly 4 million, representing an increase of 23% on the previous year. At the same time, visits to state-owned hiking areas totalled 317,200, which is a 16% increase on the previous year.
Thanks to the additional funding received for public administrative tasks, it was possible to reduce the maintenance backlog for national parks and other popular hiking destinations. This additional funding also positively affected regional economies. Wildlife Services Finland purchased over EUR 30 million of services and contracts in 2020, making a significant contribution towards the recovery of regional economies. Such purchases have increased significantly over the last two years. In addition, Wildlife Services also employed 50 planners and conservation biologists.
Over the course of the year, hunters and fishermen who had obtained permits from Metsähallitus spent over half a million days engaged in their hobbies in state-owned areas. Indeed, the total number of hunting and fishing licenses purchased last year, at 200,000, was the highest ever. Fishing and hunting visitors also had a significant impact on the regional economy, and in this respect, the eastern and northern parts of Finland were the biggest beneficiaries. The total income and employment benefits from wilderness visitors amounted to EUR 54.4 million and 280 person-years.
Growth in the popularity of domestic tourism and use of summer cottages was reflected positively in Metsähallitus' plot sales. Particularly strong demand was seen in the areas around northern tourist resorts, where there are also good opportunities for working remotely.
Added value for nature, people and society
Metsähallitus is increasingly being expected to implement better reconciliation of different needs, cooperation that listens to and understand different perspectives, and work to ensure sustainable production for the generations to come. In order to better understand the social value generated by work on strategies and ethical responsibility, Metsähallitus drew up in 2020 its first value creation model.
'Impact recognition helps us to implement our new strategy and create the right conditions for a new kind of responsible collaboration with customers, stakeholder groups and partners,' Juha S. Niemelä concludes.
Further information:
Director General Juha S. Niemelä, tel. +358 (0)20 639 4201
Communications Director, Terhi Koipijärvi, tel. +358 (0)50 598 9958, terhi.koipijarvi@metsa.fi
Communications Manager Päivi Lazarov, tel. +358 (0)40 821 8292, paivi.lazarov@metsa.fi