– Russia's war of aggression in Ukraine created a new situation for nature tourism
Visitor numbers at national parks have levelled out after a peak in demand, but destinations continued to have more visitors than before the pandemic. A total of 2.2 million visits were made to national parks in the period between January and July (1 January–31 July 2022). Growth in comparison to 2019 – the pre-pandemic period – was 11 per cent, and the long-term increase continued even though the number of visits decreased by 12 per cent from last year.
Finland's most popular national parks in January–July were Pallas–Yllästunturi, Urho Kekkonen National Park, Nuuksio, Koli and Pyhä–Luosto. Visitor satisfaction during visits to the national park is high.
– The number of visitors to national parks illustrates a long-term growth trend. However, Russia's war of aggression in Ukraine has also increased uncertainty regarding nature tourism. Inflation and fuel prices have had a significant impact this summer by limiting domestic tourism and boating, After the pandemic, the increased number of events being held in Finland and the reopening of international travel have influenced people's time use during the summer holidays, says Director of Parks & Wildlife Finland Henrik Jansson from Metsähallitus. Parks & Wildlife Finland maintains and develops Finnish national parks.
Still waiting for international tourism to recover
International tourists have returned to Finland, but larger groups are still missing. The war had a strong impact on tourism: a lot of tourists from Asia or Russia used to visit national parks, especially in Lapland and Eastern Finland.
– After a long break, travel from other countries to Finland started up again during the spring. However, the schedules for reopening have varied in different markets. The majority – more than 80% – of tourists arriving from outside Finland come from Europe. The most important markets are Germany, France, the Netherlands, the United Kingdom and Sweden. However, there are still significantly fewer international overnight stays (-36%) than in 2019 before the pandemic. We'll have to wait another year, perhaps even two, for tourism to return to normal, says Senior Director Kristiina Hietasaari from Visit Finland.
People appreciate – and need – nature experiences
The pandemic and global crises have demonstrated the importance of national parks and other nature destinations in terms of health and well-being.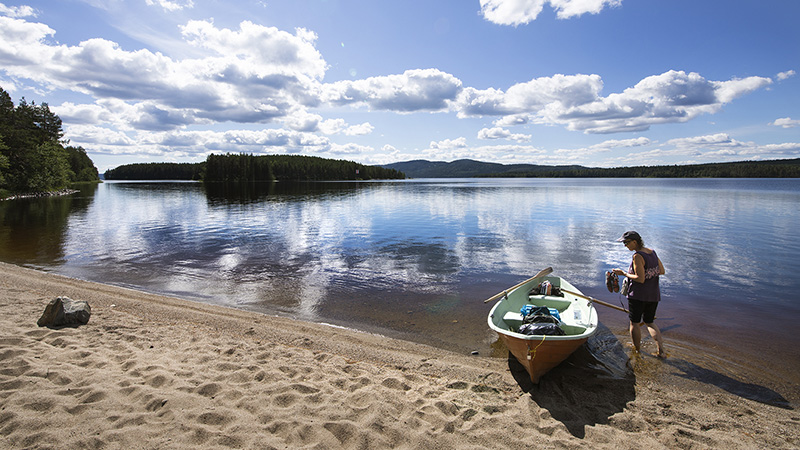 Visitors appreciate their nature experiences, and satisfaction with the services provided by national parks and the hiking environment is high: 4.4 on a scale of 1–5. Metsähallitus collects customer feedback at visitor centres, customer service points and in the terrain. Every year, visitor surveys performed in the terrain provide us with evaluations from thousands of respondents and information about their excursion experiences throughout Finland.
– Visitors are satisfied with their national park visits. The reasons for this are the nature, landscapes, peace, and company of friends. Visitors are also pleased with the results of extensive repairs to hiking services, such as trails and campsites. Activity preferences have become increasingly diverse, and we try to respond to these in cooperation with tourism entrepreneurs as much as possible, says Henrik Jansson.
– An important question for the future concerns the development of transport arrangements and public transport to popular destinations. Good models include this summer's cooperation with VR (Finnish Railways), which made it possible to take the train to many national parks and nature destinations instead of travelling by car. VR also introduced a train connection to Hillosensalmi, which is near Repovesi National Park. Hikers could take local buses from Turku to Kurjenrahka, use the Hop-on Hop-off line in Metropolitan Helsinki to get to Sipoonkorpi National Park, and take a local bus from Tampere to Seitseminen and Helvetinjärvi. Customers have been very happy with this cooperation and hope to see it continue in the future.
Funding must correspond to the popularity of national parks
Parks & Wldlife Finland has managed to significantly reduce the renovation backlog in national park service structures, such as campfire sites and trails, which was estimated at EUR 39 million in 2019. This was made possible by the Government's separate funding, or so-called future investment funding.
– Without the separate funding, the situation would have been impossible because the number of visitors increased dramatically. This would have compromised nature values and caused a decrease in customer safety and the customer experience, states Henrik Jansson.
Metsähallitus emphasises that permanent funding for national park management must be ensured in next year's budget and the next central government spending limit period in order to prevent the accumulation of new renovation backlog.
– High-quality hiking structures and services are also a requirement for the return of international tourists. This is the only way to promote the recovery of nature-based tourism.
Parks & Wildlife Finland monitors the number of visits to national parks and other popular nature destinations and reports on visitor numbers annually and in connection with interim reporting for the period between 1 January and 31 July.