Timo Laakso, M.Sc. (Tech.), 47, has been appointed Managing Director of Korsvind Oy and the Korsnäs Offshore Wind Farm project developed by Metsähallitus. He has previously worked as Managing Director of the solar energy company Naps Solar Systems and has over 20 years of experience in the renewable energy sector, including wind power. Timo Laakso will start in his new position on 1 August 2022.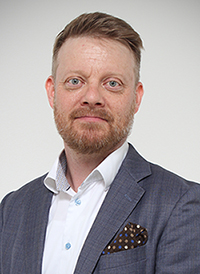 'Our country's first industrial-scale offshore wind farm in Korsnäs is very important from the perspective of energy production. Timo Laakso will manage a project that increases the production of renewable energy by up to 5,000 GWh per year. This represents more than 60 per cent of the wind power production last year,' says Tuomas Hallenberg, Director at Metsähallitus' Property Development.
'The Korsnäs offshore wind farm is equivalent to an investment in a modern nuclear power plant (1,300 MW). The size of the project is a good indicator of the potential of offshore wind power for increasing renewable electricity production in a world where the need for renewable electricity is growing because of both digitalisation and the electrification of industry and transport. This is why Metsähallitus will continue to develop offshore wind power,' he says.
'Thanks to our dozens of projects, we have solid experience in onshore wind power. We are now starting to develop offshore wind power and we will strengthen our expertise and resources related to it. Timo Laakso will bring us more insight into the energy sector and help us to take a billion-dollar investment project to the next stage,' says Otto Swanljung, Metsähallitus's Wind Power Manager.
'I am very happy to be a part of developing one of Finland's most important energy projects. Offshore wind power is a future growth area for which Finland's territorial waters are very well suited. The growth boom of offshore wind power is visible worldwide and it is interesting to be involved in its core. The Korsnäs project is also important for the well-being of the regional economy and it meets the strict responsibility requirements in these respects. I look forward to working with other experts from Metsähallitus on this project,' Timo Laakso says.
Further information:
Wind Power Manager, Otto Swanljung, Metsähallitus, tel. +358 405 601 715, otto.swanljung@metsa.fi
www.metsa.fi/korsnas-offshore-wind-farm
BACKGROUND INFORMATION:
Renewable energy, foreign investments and well-being through offshore wind power
Finland's goal is to be carbon neutral in 2035 and carbon negative soon after that. This means not only reducing emissions, but also a significant increase in the production of renewable energy. Offshore wind power offers an opportunity to significantly increase energy production and Finland's energy self-sufficiency. Offshore wind farms and wind parks are considerably larger than onshore wind farms.
In the sea area off Korsnäs, 15 to 30 km from the coasts, the nominal capacity of the planned project is 1,300 MW. The capacity of individual plants is estimated at 12-20 MW. Finland's largest onshore wind power plants are 6 MW.
The estimated annual production of the Korsnäs offshore wind farm is approximately 5,000 GWh. This amount corresponds to more than half of Finland's total wind power production in 2021. Energy production is expected to start at the end of the decade.
Metsähallitus is currently seeking a partner in energy production and to build the billion-dollar investment in Korsnäs. The selection of the partner is progressing as planned. The partner is being sought from both domestic and international markets.
The project, which is located within Finland's territorial waters, has significant positive impacts on the regional economy. The offshore wind farm pays property taxes to the municipality of Korsnäs. The real estate tax is estimated at several million euros per year.
In addition, according to a regional economy survey commissioned by Metsähallitus for Korsnäs, the direct and indirect economic impacts of the wind farm as jobs, purchases and investments are significant.
Offshore wind power projects in exclusive economic zone (EEZ) outside the territorial waters border do not have these positive impacts, as no real estate tax or area rent is paid for them.
The competitiveness of offshore wind power is strengthening and interest in the construction of offshore wind power has increased rapidly. International investors are already interested in offshore wind power, which is well suited to the western coast of our country thanks to the wind conditions and the shallow coast.