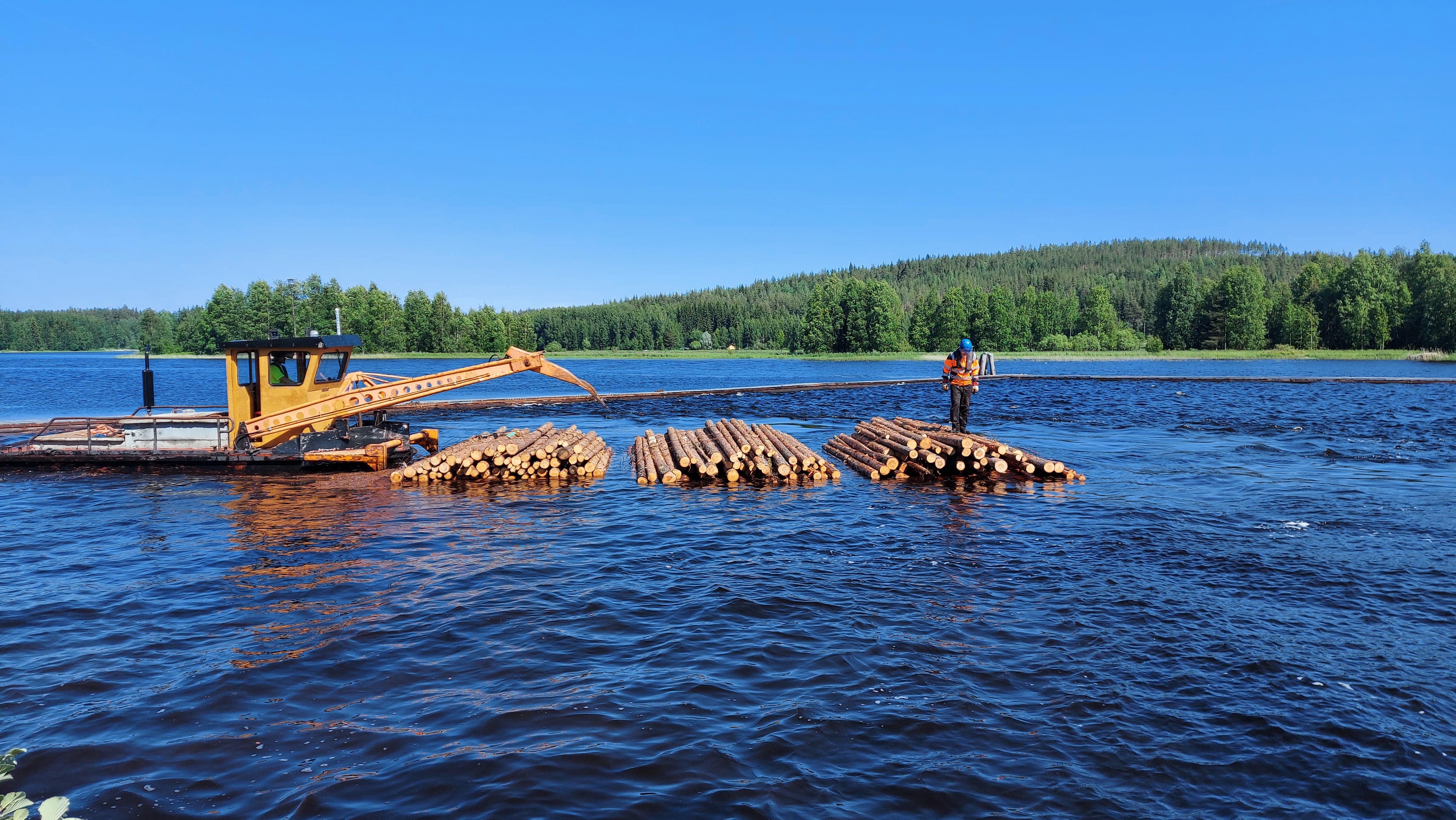 At the end of June, Metsähallitus continued log driving after a seven-year break. One of the key goals of Metsähallitus's Climate Programme is to reduce their carbon footprint. Log driving is particularly suitable for long transport journeys and is part of Metsähallitus's efforts to develop climate-friendly timber transport.
In summer 2022, Metsähallitus' timber will be driven from the drop sites Peltosalmi in Iisalmi and Kuokkastenkoski in Nurmes. Dropping of timber was started at the end of June, and the actual driving as a timber raft begins in late July or early August.
'The trees will travel behind the tugboat for more than a week along water systems for about 400 kilometres in the direction of Kymenlaakso. We will drive tens of thousands of cubic metres of timber this summer,' says Heikki Kääriäinen, Director of Timber Supply at Metsähallitus Forestry Ltd.
Log driving is a good mode of transport especially for long distances in terms of emissions and cost-efficiency. First, the timber is brought to the drop site, where the bound bundles are dropped into the water. The bundles are combined into a raft, which a tugboat pulls along waterways towards the location where the timber will be used.
Timber harvesting and transportation are Metsähallitus's biggest sources of emissions, which is why improving logistics and operations are key ways of reducing the carbon footprint.
Metsähallitus has been monitoring the carbon footprint of timber harvesting and transport since 2005. In connection with its climate programme completed in 2020, Metsähallitus develops and experiments with different climate-friendly modes of transport.
'The most recent developments have included timber trucks using biogas and renewable diesel, High Capacity Transport (HCT) and Longer and Heavier Trains (LHT). Log driving diversifies this range of environmentally friendly modes of transport,' says Kääriäinen.
Further information:
Heikki Kääriäinen, Director of Timber Supply, Metsähallitus Forestry Ltd, tel. +358 (0)400 344 685
Additional material in Finnish:
Metsäteho's log driving guide (in Finnish)
Metsähallitus' Climate Programme (2020) (in Finnish)