Aims and Activities of Lights On! Project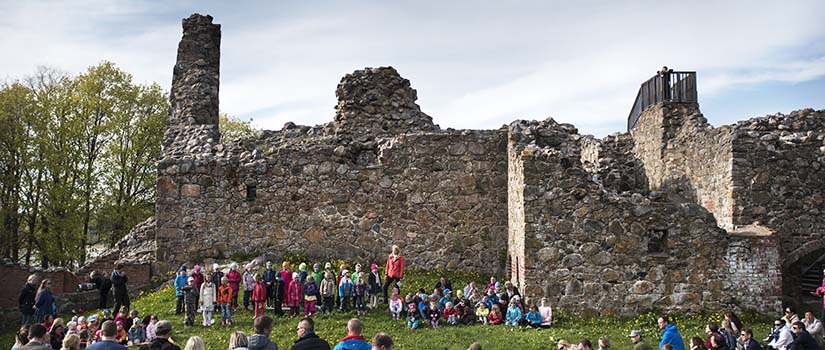 The results of the project are presented in the Final Report (prezi.com)
The Finnish–Estonian project improved visitor experience and turned some fairly unknown historical sights into true tourist attractions. To reach this goal, we improved infrastructure and sustainability of the sites.
Improved and new trails and high-quality information points invited visitors. Mobile guiding and augmented reality was created, too. Visitors and local people were invited to a series of light festivals and re-enactment events. The goal was to increase visitor numbers, attract new visitor groups and to encourage visitors to travel between the sites.
The name of the project is not just a clever pun: we literally brought permanent lighting to four project sites. This will prolong the tourism season and improve visitor experience substantially. An international competition was organised for the light installation designs.
Along the project, new tourism products and services were designed together with local entrepreneurs. Tourist operators were offered an opportunity to participate in a training programme.
Activities
Events
We arranged 16 public events, together with local actors. Eigth events were in Finland, which welcomed altogether 9,000 visitors. The events of 2017 highlighted the Finnish Nature Day in August as a part of Finland´s hundred years of independence. Examples of programmes of the events (posters, pdf).
Three competitions to highlight our mutual heritage were arranged in 2016
The public lighting design competition aimed at finding ideas for an insightful and innovative temporary light installation for the façade of the Raasepori Castle ruins.
The winner was the "Reflect of History" by Jenni Pystynen and Paula Lehtonen. (www.humak.fi)
Design contest of comic strip illustrations to eight historical sites invited artists to produce short comic strips illustrating people, events and sceneries from the past, and valuable nature of the sites.
The winner was Ilpo Koskela.(News release 23.9.2016)
The jewellery design competition was open to designers, artists and students living in Finland or Estonia. The goal was to find an innovative piece of jewellery which would be symbolic of the power embedded within historical sites in Finland and Estonia. The winner was Salla Viitasalo with "Bound Together".
We have also arranged workshops about painting with light and training for tourism entreprenours.