Water Protection in Catchment Areas in the Freshabit LIFE IP Project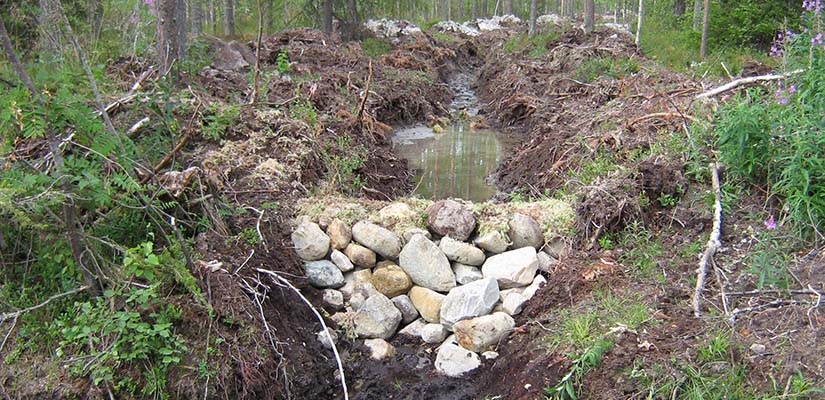 Agriculture and forestry, peat extraction, mining and construction have caused the eutrophication of water bodies, increased the sediment loading into waters and altered the water cycles.
Preventive water protection includes stopping the excessive nutrient and sediment loading in the catchment areas of water bodies, i.e. before they burden the actual water bodies.
Preventive measures include the construction of sedimentation ponds and pits, buffer zones, wetlands and peak runoff control structures in the catchment areas. All of these are aimed at slowing down the water flow in order to allow water-borne nutrients and sediments to descend into the water passage or recesses created next to it. The blocking of old, unnecessary ditches in forests can also hold the water for longer in catchment areas, thus reducing the loading into water bodies and levelling off flood peaks. Various water protection measures are being implemented in the project in areas dominated by forestry and agriculture.
The restoration of mire ecosystems will also help to retain water in catchment areas. Restoration measures aim to restore the natural hydrological regime of drained peatlands and their former natural state by filling in ditches and, if necessary, removing trees. When the water level remains high, forest plants are gradually replaced by mire species and the mire landscape begins to slowly recover over a period of decades. Recently, peatland restoration measures have even been implemented outside protected areas, including on former peat production sites.